Ionic Liquids Demonstrator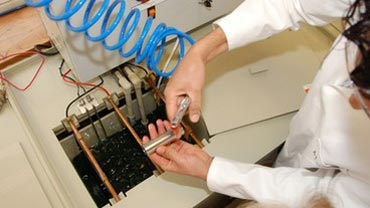 The Ionic Liquids Demonstrator (ILD) is a multi-application pilot plant facility to showcase the application of ionic liquids, primarily in the area of metal processing. The ILD has been funded through the EU IONMET project, ScioniX and the Leicestershire Economic Partnership (LSEP). The ILD project builds on the historic and ongoing research and development activities in the Green Chemistry group at the University of Leicester, to transfer its ionic liquids applications know-how to Leicestershire businesses. Our ionic liquids applications have real potential to bring new value-added gains to existing businesses within the sub-region.
As an environmentally-friendly, non-toxic substitute for current processes, the use of ionic liquids would offer both health and safety and environmental benefits, in addition to competitive product advantage achieved through better tailoring of product characteristics (hardness, fineness, adherence, etc.). By removing harsh acid-based processes, ionic liquids applications improve energy efficiency and decrease the emission of chemicals to the environment.
The project is working with local businesses to encourage end-users to explore and evaluate, in a tangible way, the benefits of industrial processes based on ionic liquids. Most of the solvents ScioniX has developed are based on vitamin B4 (choline chloride), which is safe and easy to manufacture in large quantities, and its use does not have to be registered. By combining the basic liquid with other molecules or salts, a range of processes can be tailored to individual companies' use.
The Ionic Liquids Demonstrator has the following technologies which can be accessed:
Immersion deposits (silver on copper, copper on aluminium or magnesium and a wide variety of others)
Chromium electroplating from Cr(III) based liquids
Aluminium electroplating
Nickel plating (with or without composite particles)
Electropolishing of stainless steel and Ni or Co alloys
Electroplating of zinc tin alloys
Copper composite electroplating
To find out more about this technology download our brochures on:
To book a free demonstration session please contact Dr Karl Ryder.