Student story: my ULAS internship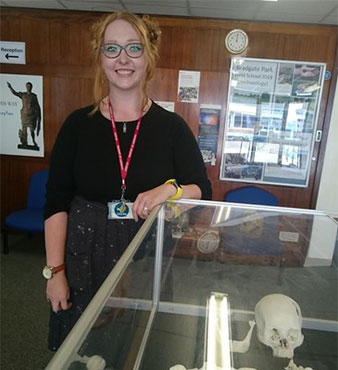 Hi, I'm Saskia, a 3rd year Archaeology BSc student at Leicester and alongside my studies I'm an intern with the University of Leicester Archaeological Services, known as ULAS. Volunteering has given me the opportunity to gain valuable experience in archaeological post-excavation and also to gain transferable workplace skills.
My main role as a volunteer is to help with the finds processing, which includes sorting and washing finds brought in from archaeological sites, and environmental processing, which involves processing, drying and sorting environmental finds in order to identify them. Both of these offer a chance to handle a range of archaeological materials and they give an insight into the science-based environmental analysis process of post-excavation.
Volunteering has provided enjoyable and relevant experience that has benefited me in other aspects of my degree, such as during the Bradgate Park Fieldschool in Year 1 and Year 2. The experience of volunteering at ULAS has allowed me to expand on the knowledge I have gained through archaeological field schools and has also encouraged me to pursue science-based post-excavation analysis in the future.