Estates and Campus Services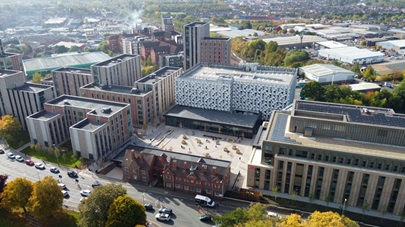 Our estate extends to a total site area of 95 hectares, comprising a non-residential estate of 110 buildings covering around 200,000m2 and a residential estate of 191 properties totalling around 100,000m2. The majority of the academic facilities are located to the south of Leicester city centre with a main campus supplemented by a number of satellite properties nearby. The residences are in two locations: The City, on the edge of main campus, and The Village which is around 3 miles away. We also have strong links with several hospital sites in and around Leicester.
We are responsible for maintaining, developing and operating our properties to support our strategy and ensure that we deliver the service that our students, staff and visitors want and expect.
We are currently working on an exciting new programme of improvements to the estate.
Estates consists of:
Key people
Kirsty Woodward (Interim) - Director of Estates and Campus Service
---
Partner Organisations
We enjoy close links with College Court, the University's dedicated hotel and conference centre, and Leicester Services Partnership, a company jointly owned by the University and Students Union to provide the catering and retail on campus.
College court
+44 (0)116 244 9669
info@collegecourt.co.uk
Visit the College Court website.