About us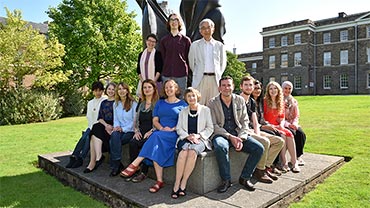 The Centre for Victorian Studies has a distinguished record of innovation and excellence in interdisciplinary research and teaching at postgraduate level.
Established in 1966 with a generous grant from the Leverhulme Trust, we are the longest-established Centre for Victorian Studies in Britain. The three founding professors were Professor Philip Collins (Professor of English), Professor Jack Simmons (Professor of History), and Professor H J Dyos (Professor of Urban History). They were joined shortly after by Professor J A Banks (Professor of Sociology), whose wife, Professor Olive Banks, also contributed seminars for the Centre's module on Victorian women.
The Centre's research and teaching staff are drawn from the College of Social Sciences, Arts and Humanities, and comprise members from:
Mission statement
Our work today maintains and builds on the Centre's pioneering tradition of interdisciplinary research, and is founded on the fundamental synergies between the disciplines of English and History; and between Victorian regional, local, urban and industrial history and the period's literature.
Over the years we have encompassed more colleagues and disciplines, including History of Art, History of Science and Museum Studies, as we work to explore new aspects of Victorian culture and its legacies, to provide groundbreaking directions for Victorian Studies worldwide, and to maintain Leicester's status as a pre-eminent research Centre. We set the highest standards in our research and teaching, and aim to engage and train the scholars of the future in our Masters and PhD programmes.
The Centre is made up of staff, postgraduate research students, Masters students, and international visiting Fellows, all of whom are integral to our ethos and work. We are an inclusive Centre, dedicated to the mutual development of all our members through opportunities for the exchange of ideas and work in practice, in seminars, conferences, and the day-to-day collegiality which is the backbone of our success.
The Centre is also outward-facing in important respects, welcoming scholars and Leicester residents to all our events, and valuing our location within (and the superb architectural and industrial heritage of) our important 19th-century city and region.
In furthering the engagement between the different disciplines of the Centre, we aim to appreciate what the Victorians mean for Britain in the 21st century, and how we can understand their legacies from a global perspective. Our excellent collaborations with scholars from all over the world mean that we are well-placed to develop the internationalisation of Victorian studies, and to benefit from the symbiotic relationships that are built as we generate better understanding of the newly emerging dimensions of Victorian studies.