Resources
Library collections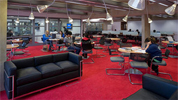 The University of Leicester Library holds an extremely rich collection of 19th-century printed materials, as well as several specialist collections. The extensive collection of 19th-century periodicals includes quarterly reviews, monthly magazines, weekly reviews, religious journals, children's and women's magazines.
The library also has a wealth of contemporary historical materials, including books and pamphlets on the 19th-century city, based on the library of the late Professor H J Dyos, one of the original founders of the Centre. Additionally, the library has strong holdings relating to the work of Charles Dickens, initiated by Professor Philip Collins, another of the Centre's founders. Other specialist collections include the Higson Collection of early children's books and the Transport Collection, as well as numerous manuscript archives relating to the Victorian age.
History collections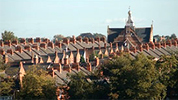 The collections housed in the Centres for Urban History and Regional and Local History are open to students of the Victorian Studies Centre, and particularly to those taking courses shared with the Urban History MA and the Local History MA.
Record Office for Leicestershire
The Record Office for Leicestershire contains a wealth of 19th-century materials concerning civic and religious institutions in the county, local businesses and industries, and public records.