The arts have a vital role at the forefront of movements for social change, challenging public perceptions and offering new ways of interpreting the world around us. From literature that has overthrown laws, to light entertainment that has stood steadfast in the face of conservative criticism, arts and culture can help to create a fairer, more diverse society for all.
Leicester-born playwright Joe Orton holds a special place in the pantheon of 20th century dramatists, combining powerful, socially relevant themes with outrageous, popular comedy that has seen his plays continually revived in both professional and am-dram productions. Yet his untimely death has always overshadowed his work, which is now increasingly overlooked.
Dr Emma Parker, Associate Professor in Postwar and Contemporary Literature, explores the premise that literature has the power to reveal previously unseen truths about the world, with the belief that literature can inspire social change. She is a leading expert in Joe Orton, her extensive research uncovering how his class and sexuality shape his work and how it relates to modern issues of social justice.
"I've always been interested in gay and working class literature and I live in Leicester, hometown of Joe Orton, a gay, working class writer," Dr Parker explains.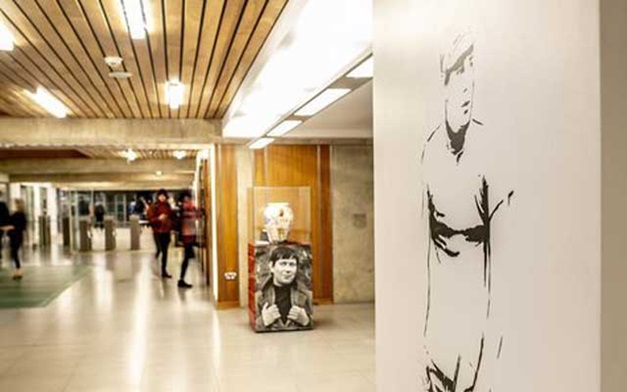 I read Orton as an undergraduate. His plays weren't set texts on my BA English course but a tutor recommended Orton to me. I loved his work. I wept with laughter when I first read the plays. His cheeky iconoclasm delights and inspires me.
"Then, when I visited the Joe Orton archive at the University of Leicester, I was excited by all the unpublished material I found there, which offered new critical insights into his work. I also felt deeply moved by the archive – it really brought Orton to life for me."
Seeking social justice through culture
Joe Orton's revolutionary and utterly original work addresses issues such as social and sexual inequality that remain as relevant today as when they were written half a century ago, a legacy that resonates strongly with Dr Parker's passionate commitment to social justice.
Orton was typically seen as an apolitical social and literary anarchist, but Dr Parker's work shows how his satire on class and sexuality supports what we would today see as the pursuit of equality, diversity and inclusion. Seeking to challenge the myths about Orton's life and work that have calcified into unquestioned truths, Dr Parker has been able to refute accusations of Orton's misogyny by highlighting his previously overlooked satire on attitudes to female and same-sex desire.
Dr Parker's research also examines how he interacted with the culture around him. In uncovering his record collection, she discovered how he was able to reflect – and express – his sexuality in a period when homosexuality was still 'the love that dare not speak its name'. This innovative research led to Dr Parker receiving an invitation to adapt and read her essay 'A Queer Ear: Joe Orton and Music' on BBC Radio 4's leading arts programme, 'Front Row' in 2019.
A penchant for mischief
While his establishment-baiting plays were the most obvious example of Orton's flair for mischief, he also had fun as a pseudonymous letter-writer. He employed various pen-names but one in particular has become an established epistolary eponym – Mrs Edna Welthorpe. Dr Parker's work offers a new understanding of Orton's Edna Welthorpe letters by showing how they reflect the same concern for social and sexual inequality as his plays.
In 2017 this decent-minded, often outraged lady was re-animated, courtesy of Arts Council England and the University of Leicester, for a project entitled Yours Faithfully, Edna Welthorpe (Mrs). The short film, by BAFTA-nominated animator Chris Shepherd, starred Alison Steadman as the voice of Edna.
Orton's notoriety was further established through his and his partner Kenneth Halliwell's redesign of library books - including works by Shakespeare - from 1959 until their discovery and prosecution in 1962, which resulted in 6-month prison sentences for both men. Dr Parker has offered new insights into the motivation behind these acts of rebellion, and Orton's relationship with Shakespeare. She has shown how through these acts he mocked the status of Shakespeare as an emblem of social distinction, whilst reimagining the Bard's work through a queer, working class lens. In doing this, Orton challenged what he saw as the gentrification of Shakespeare's work, rather than taking aim at the playwright himself.
Bringing the focus back to Orton's work
Orton died in 1967, murdered by his lover Kenneth Halliwell.
In his lifetime, Orton was acclaimed and denounced, mixing with popstars (he wrote an unproduced screenplay for the Beatles) and – like a rock star – his early death cemented his reputation and secured his lasting fame.
"Orton is better known for his death than the work he produced in life. I want to bring attention back to his plays and explore why his death overshadows his work," Dr Parker explains.
"My work explores why a certain image of Orton has become so powerful. And what assumptions about gay lives this image serves."
Celebrating Orton's legacy
A wide range of events and exhibitions, publications and performances commemorated the anniversary of Orton's passing in 2017, part of an Arts Council England-funded project led by Dr Parker. Joe Orton: 50 Years On ran from 2014 to 2019, incorporating the 50th anniversaries of his three major plays: Entertaining Mr Sloane, Loot and What the Butler Saw. In addition, the project tied into the 50th anniversary of the partial decriminalisation of homosexuality in England, less than a month before Orton's death.
Some of Britain's leading comedy writers were invited to pen new Edna Welthorpe letters and rose to the occasion magnificently. Contributors included Jesse Armstrong (Peep Show, Fresh Meat), Arthur Matthews (Father Ted, Toast of London), Caroline Moran (Raised by Wolves), David Quantick (The Thick of It, Veep) - and Hollywood star Alec Baldwin. Dr Parker had heard that Baldwin was a big fan of Orton, contacted him and was delighted when he agreed to write his own Edna Welthorpe letter.