Cultural organisations today are facing significant challenges as they seek to present previously suppressed, often contested, histories; build relationships with new audiences; and look to engage with wide ranging contemporary issues to foster progressive social change. For more than 20 years, the University of Leicester's Research Centre for Museums and Galleries (RCMG) has been at the forefront of a process of cultural transformation, working closely with museums, galleries and heritage sites to support socially purposeful thinking and practice and to advance equity, accessibility and inclusion across the cultural sector.
Since its inception in 1999, RCMG has partnered with cultural organisations of all kinds to carry out distinctively values-led research that supports them to enhance their social role and value. The Centre has received worldwide recognition for its socially focused and highly impactful research, developed through a highly collaborative and team-based process that brings together and values diverse forms and expressions of expertise.
Tackling ableism
For two decades, RCMG has led a series of projects that seek to harness the potential for culture and heritage to tackle deeply entrenched negative attitudes towards disability. In 2017, RCMG joined forces with the Wellcome Collection to explore how the institution could develop new exhibition narratives and practices that tackled ableist attitudes and beliefs in creative new ways. Professor Richard Sandell, Dr Sarah Plumb and Cesare Cuzzola, worked with the Wellcome's team to create Being Human, a new permanent gallery that opened in September 2019 that has attracted international attention for its radical new approaches to access and inclusion.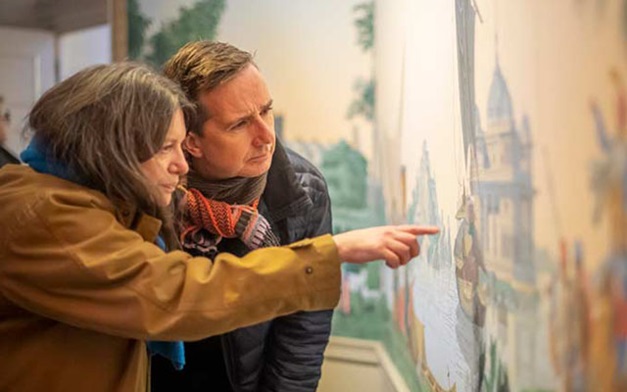 Twenty years ago, the idea that cultural organisations could and should be active and purposeful in creating fairer, better societies was championed by only a minority of thinkers and practitioners. Today, there is a growing interest in the social potential of culture, and the RCMG team is excited to be part of such a dynamic movement for progressive change.
Opening up culture and heritage for all
In 2019, with support from the Economic and Social Research Council, the University of Leicester established a strategic partnership with the UK's largest heritage body, the National Trust, to foster new, socially engaged approaches to public history and take forward shared ambitions around advancing equity, accessibility and inclusion. The partnership, led by Professors Suzanne MacLeod and Richard Sandell, builds on a suite of collaborative socially engaged projects with the Trust over recent years.
In 2017, RCMG was lead research partner on Prejudice and Pride, a now award-winning year-long public programme that marked the fiftieth anniversary of the partial decriminalisation of homosexuality in England and Wales. The RCMG team worked with the Trust to uncover and reveal previously unknown histories of same-sex love and desire and gender diversity across the Trust's properties in England and Wales. They pioneered new modes of engaging the public around often contested histories, producing exhibitions that were attended by over 350,000 visitors.
More recently, RCMG - led by Professor Suzanne MacLeod - collaborated with the Trust to explore and uncover the unique role cultural and heritage organisations can play in combating contemporary social isolation and loneliness. The project, titled HumanKind, centred on Calke Abbey in Derbyshire, and was inspired by the 200th anniversary of the death of Henry Harpur, 7th Baronet of Calke Abbey.
On the project, Professor MacLeod says: "Most discussion to date has focused around what the public sector and business can do to combat loneliness and social isolation, usually separately. We wanted to explore what role culture might play in this discussion, as well as support the Calke team in their ambitions to change the way they work."
HumanKind purposefully used stories of the family to challenge stigma surrounding loneliness and social isolation and to promote public dialogue and debate to foster more meaningful interactions and acts of kindness between visitors, volunteers and staff. The ground breaking project encouraged healthy conversation around the topic of isolation and loneliness, emphasising the importance of unity against stigma.
Exploring the social role and potentials of museums and galleries
Building on her pioneering research exploring the potential roles of museums in relation to health and wellbeing, Dr Nuala Morse in RCMG is leading a collaborative doctoral research project with Oxford Gardens, Libraries and Museums (GLAM) that examines the emerging professional practice of culture-led wellbeing. The project will explore staff views on their emerging roles and skill sets in relation to health and wellbeing activity, produce recommendations for cultural organisations seeking to embed this practice and develop training for the cultural, heritage and healthcare sectors for wellbeing-focused practice and careers.
In 2020, RCMG was commissioned to work in collaboration with Kettle's Yard to explore the significance of the gallery's socially engaged community programme Open House over the last seven years. The project, led by Senior Research Associate, Dr Sarah Plumb, looks back at the entirety of the programme in order to understand its impact, value and significance; the difference it has made to the communities of North Cambridge, the staff and volunteers of Kettle's Yard and the Open House artists. The research will act as a springboard from which to explore larger questions around the roles museums and galleries can play to be relevant and meaningful in the world, and how can they be truly useful to communities.
Dr Katy Bunning is leading a collaboration between RCMG and Tate that aims to develop and test new approaches towards an ethical, inclusive and effective curation of Empire at Tate Britain. This doctoral research project, supported by the Arts and Humanities Research Council, will research the connections between Tate's collection and the history of the British Empire and British involvement in the transatlantic Slave Trade and critically examine how these connections have been surfaced and interpreted over the last two decades within Tate's curatorial practice and programming. The research will lead to new knowledge and approaches that can support Tate to enhance their work in this area.
Advancing equity
The RCMG team continues to actively explore ways to foster an ethical orientation in the work of museums, galleries and heritage bodies. In 2021, RCMG joined forces with leading agency Culture& to launch the New Museum School Advanced Programme, supported by the Esmee Fairbairn Foundation, Marstine Family Foundation and University of Leicester. The programme supports diverse talent through fully funded scholarships to train with the School of Museum Studies. Culture&, RCMG, programme participants and a body of cultural partners from across the sector will work together to drive forward a movement of inclusive transformation guided by Culture&'s Black Lives Matter Heritage Charter.
Professor Suzanne MacLeod comments, "We are thrilled to be working with Culture& to realise an ambitious step change in our shared practice and ambition to build a more inclusive sector. The New Museum School Advanced Programme will open up opportunities for talented individuals to engage with, learn from and contribute towards leading edge research and practice in the field, to build the creative and critical skills with which to bring about meaningful change."
Looking ahead to a promising future
RCMG and its teams continue in the effort of changing and shaping our cultural spaces with vigour. A new project with the Birmingham Museums Trust is harnessing RCMG's two decades of research to support a process of radical inclusive transformation. Working with the Historic Royal Places, Historic England, English Heritage and the National Trust, RCMG has established the Queer Heritage and Collections Network, that is supporting people working with LGBTQ+ collections and histories across the museum and heritage sector. In 2021, the Network was named Partnership of the Year at the prestigious Museums + Heritage Awards.
Working in creative and flexible ways, RCMG remains committed to exploring news ways of opening up accessible and transformative cultural experiences for everyone, championing ethically informed cultural practice as central to the creation of more equitable, inclusive societies.