Attenborough Arts hosts 'unapologetic display' of Criminal Ornamentation
International artist Yinka Shonibare MBE presents a celebration of pattern, repetition and colour from 22 September to 16 December
"Criminal Ornamentation is about the refusal of artists to stay away from vulgar ornamentation and obsessive popular repetition of pattern. Cheers to all the criminals!" - Yinka Shonibare MBE
The latest exhibition at the Attenborough Arts Centre makes no apologies: it will celebrate the vulgar, radical deviancy of pattern in the places of high art.
Curated by international artist Yinka Shonibare, Criminal Ornamentation will be exhibited in the Attenborough Arts Centre at the University of Leicester from 22 September to 16 December. It explores the cultural and social dimensions of the use of pattern in art, bringing together works from the Arts Council Collection in an exploration of the use of art and craft.
It will be held in Attenborough Arts Centre's fully-inclusive gallery, opened in 2016 by Sir David Attenborough as the largest contemporary art space in Leicestershire and one of the largest in the East Midlands.
The exhibition title refers to Adolf Loos' 'Ornament and Crime' (1908), a sermonising essay in which Loos ridiculed the use of ornament as an indication of poor taste and the lowest level of cultural development.
Internationally renowned artist Yinka Shonibare MBE has long explored issues of race and class through the media of painting, sculpture, photography and film. Known for his trademark use of Dutch wax print fabric, his work often explores the legacy of colonialism, highlighting the complexities of nationality and identity in a post-colonial world.
Yinka Shonibare MBE was a Turner prize nominee in 2004 and his work, 'Nelson's Ship in a Bottle' was the 2010 Fourth Plinth Commission.
Michaela Butter, Director of the Attenborough Arts Centre, said: "It's such an honour to have such an esteemed artist curating the Arts Council collection in our gallery spaces. I've been looking forward to this show all year and it will truly be a highlight for Leicester and the East Midlands to see this show first before it heads off on its national tour."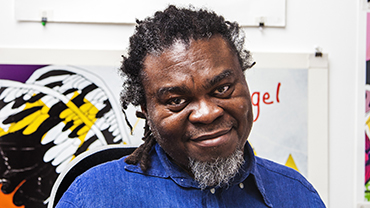 In a video interview for the Attenborough Arts Centre, Yinka Shonibare MBE said: "I thought, actually, it was very exciting to be able to look at the collection of the Arts Council because it's a large collection.
"For me, the key to it is to enter a collection with a particular theme and then find what's in the collection. I thought about issues I've explored over the years and how I might then approach a collection with some of those concerns about class, taste and popular culture and high art.
"Criminal Ornamentation is about the refusal of artists to stay away from vulgar ornamentation and obsessive popular repetition of pattern. Cheers to all the criminals!"
The exhibition is not about the hierarchy of taste as it manifests between high and low culture, but rather about the cultural and political manifestation of pattern within craft, sculpture, painting, costume design, film and photography. Criminal Ornamentation celebrates the impolite and unapologetic display of pattern, repetition and colour as freedom from the elitism of good taste, rejoicing the radical deviancy of pattern.
An opening event for the exhibition will be held on Friday 21 September with guest speakers including the artist, Yinka Shonibare MBE, and Chief Executive of the Arts Council England, Darren Henley OBE. Guests will be invited to indulge in 'vulgar ornamentation' of themselves with a temporary tattoo specially designed as part of a public competition. Inspired by Leicester Industries and the work of artist Yinka Shonibare MBE, the design celebrates colour and pattern drawn from Leicester's history, and culture.
Darren Henley, Chief Executive at Arts Council England, said: "We make sure the works of art in the Arts Council Collection can be seen in galleries up and down the country because they belong to everyone across England. The East Midlands has a vibrant cultural scene, and Attenborough Arts is an important part of that, bringing exciting collections and world-renowned artists to the heart of Leicester. This very special exhibition is a fantastic opportunity for people in the city to see the world-class art of Yinka Shonibare right on their doorstep."
Criminal Ornamentation: Yinka Shonibare MBE curates the Arts Council Collection, 22 September – 16 December at the Attenborough Arts Centre, University of Leicester, Lancaster Road, Leicester LE1 7HA
Gallery opening times:
Monday closed
Tuesday to Friday 12pm – 6pm
Saturday 10am – 5pm
Sunday 12pm – 4pm