Interreg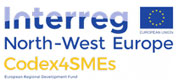 The Interreg project Codex4SMEs (Companion diagnostics expedited for small and medium-sized businesses) project plans to improve healthcare by enhanced adoption of Personalized Medicine in North-West Europe and beyond. Personalized Medicine promises to deliver "the right drug, at the right dose, at the right time, to the right patient" with important cost-savings in public healthcare.
Companion diagnostics (Cdx) are an indispensable tool for optimum application of Personalized Medicine, but currently only few therapies (1% in DE) are accompanied by Companion diagnostic tests. A strong growth of the global Personalized Medicine market will also drive growth of the Companion diagnostic market. Small and medium-sized businesses (SMEs) from North-West Europe, as diagnostics innovation drivers, have a strong potential to exploit this market. The USA are far ahead of North-West Europe in creating a commercially attractive regulatory and market structure.
Codex4SMEs will establish a network of of nine partners and two sub-partners from seven countries to support SMEs along the Cdx value chain. BioRegio STERN Management GmbH is the German lead partner for the Interreg project Codex4SMEs. For the project term of three years it will receive close to 640,000 euros, of which 60 per cent will come from subsidies.
A total of nine partners and two sub-partners are working together led by the BioRegio STERN:
WestBIC (EU Business and Innovation Centre for Irelands Border, Midlands and Western Region)
CÚRAM (the Science Foundation Ireland Centre for Research in Medical Devices at NUI Galway)
University of Leicester
Medilink Midlands
Medicen Paris Region
BOM Holding BV (Technologieförderung Brabantse Ontwik-kelings Maatschappij)
Innovation Quarter with a regional Subpartner
Integrated BioBank of Luxembourg – IBBL
Biobank Graz an der Medical University of Graz