Industry
The LPMI has a strong track record of working collaboratively with industry (small, medium, and large enterprises) across all stages of product development. We deliver research and consultancy in pharmaceuticals, biotechnology, medical technology and diagnostics.We believe in sustainable partnerships and in the strength of collaboration. We collaborate with small, medium, large and global enterprises in the areas of pharmaceuticals, biotechnology, medical technology, diagnostics, contract research services and consultancy.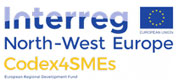 The Interreg project Codex4SMEs (Companion diagnostics expedited for small and medium-sized businesses) project plans to improve healthcare by enhanced adoption of Personalised Medicine in North-West Europe and beyond. Personalised Medicine promises to deliver "the right drug, at the right dose, at the right time, to the right patient" with important cost-savings in public healthcare.
CODEX4SMEs - Get Involved.
Are you a small and medium-sized enterprise (SME) working in the field of companion diagnostics? Codex4SMEs offers you:
Sample access service
Biomarker validation service
Knowledge transfer regarding biomarkers/biobanking
Networks/ecosystems from eleven partners in seven countries
Transnational roadshows with venture capitalists and large pharma companies
Expert advice regarding business model, business growth and upscaling
Support services will be tailored according to the SME's current stage of development
Medilink Midlands

Transforming the Healthcare Industry by connecting Academics, Businesses and Clinicians. Medilink EM is the East Midlands life science industry association whose aim is to help companies establish, develop and grow.