Facilities
X-ray fluorescence (XRF)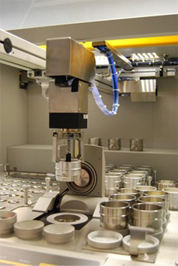 X-ray fluorescence can provide rapid, accurate and precise chemical analyses for a wide range of geological, environmental, processed and synthetic materials. We operate a PANalytical Axios-Advanced XRF spectrometer.
Contact
Ms Lin Marvin-Dorland
+44 (0)116 252 3817
lgm2@le.ac.uk
---
Zeiss Scanning Electron Microscope
The ZEISS Sigma 300 analytical Scanning Electron Microscope (SEM) joins a suite of other electron microscopes in the University of Leicester's Advanced Microscopy Facility. The new Zeiss is a bespoke instrument with a large chamber able to handle a wide variety of sample types to support a multitude of research needs. The system boasts a combination of analytical detectors that make this instrument unique in the UK: it combines two energy dispersive spectrometers (EDS) with wave length dispersive (WDS) and µ-XRF capabilities along with cathodoluminescence analysis. This allows for high resolution imagery with accurate and precise major and trace element chemical characterisation.
Contact
Dr Tom Knott
+44 (0)116 252 3817
trk2@le.ac.uk
---
Thin sections/sample preparation
Our laboratories offer a range of standard- and non-standard-sized thin and polished thin sections and polished blocks for use in transmitted and reflected microscopy, electron microprobe analysis and electron microscopy.
Contact
Dr Annika Burns
+44 (0)116 252 3792
alb55@le.ac.uk
---
LA-ICP-MS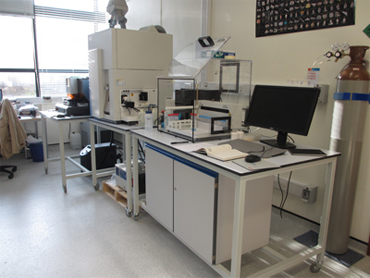 We operate a Thermo Scientific iCAP-Qc quadrupole ICP mass spectrometer, for high-sensitivity measurement of trace elements and isotope ratios in solutions and via laser ablation. The iCAP-Qc is linked to a New Wave Research-ESI 213nm laser unit, fitted with a two-volume ablation cell for in-situ analysis of a range of geological, engineering and archaeological materials.
Contact
Dr Tiffany Barry
+44 (0)116 252 3780
tlb2@le.ac.uk