Events
Upcoming events
Cartoonathon
November 2021
As part of the ESRC Festival for Social Science 2021, the Shout Out UK Instagram platform is hosting an online Cartoonathon engaging young people with political cartoons. The Cartoonathon is led by 3 early-career researchers (Kara Blackmore, James Illingworth, Sarah Weidman) who are affiliated with the AHRC-funded Covid in Cartoons project. Throughout November, the team will present a selection of posts, stories and live drawing, developed in partnership with Cartooning for Peace, to address three key themes: environment, inequalities, and the COVID-19 pandemic. Young people aged 15-25 are invited to participate in the Cartoonathon by sharing thoughts about the artwork and submitting their cartoons to a competition. There will be a winner selected by a panel of professional cartoonists for each theme. Stay tuned for details on the campaign, competition and online events.
Online seminar
9 December 2021
The Covid in Cartoons Team will present a research paper as part of the Pandemic Perspectives 2021 seminar series. The presentation will focus on critical literacy and resilience during the Covid-19 pandemic. For full details of the programme, see the Pandemic Perspectives website.
Past events
Pilot in Schools
12 May 2021 - 9 June 2021
We hosted our pilot in schools, delivered by Shout Out Uk's Lucie Spier, and concluding with a live drawing session with cartoonist Uri Fink
Political Cartoons and Conflict
20 May 2021
We hosted an online roundtable on "Political Cartoons and Conflict", with Sylvain Platevoet from Cartooning for Peace, and cartoonists Pedro Molina and Alaa Satir, moderated by Prof. Peter Vale. The recording is now available from the Covid in Cartoons Youtube playlist which can be viewed below.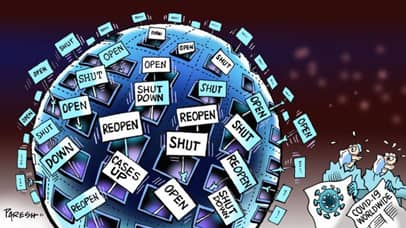 Paresh (India) - Cartooning for Peace