Events
Project Events
Pint of Science
The Covid in Cartoons project is presenting its arts installation by Rebecca Harvey-Hobbs from Art Vehicle as part of Pint of Science on 10 May. Book tickets for a talk by the artist and research team.
Forum for Global Challenges
3-5 May 2022
The Covid in Cartoons team has hosted a youth-led event as part of the Forum for Global Challenges in Birmingham on 4 May. The event was supported through University of Leicester ESCR IAA funding and was delivered in collaboration with Sirius Academy, Shout Out UK, and cartoonists Tayo Fatunla and Piet from Cartooning for Peace. Throughout the forum, from 3 to 5 May 2022, an arts installation developed in collaboration with Vehicle Arts has been on display.
Browse the full programme of the forum.
Online seminar
9 December 2021
The Covid in Cartoons Team presented a research paper as part of the Pandemic Perspectives 2021 seminar series. The presentation focused on critical literacy and resilience during the Covid-19 pandemic. For a recording of the talk, see the Pandemic Perspectives website and our Youtube playlist.
Cartoonathon
November 2021
As part of the ESRC Festival for Social Science 2021, the Shout Out UK Instagram platform hosted an online Cartoonathon engaging young people with political cartoons. The Cartoonathon was led by 3 early-career researchers (Kara Blackmore, James Illingworth, Sarah Weidman) who are affiliated with the AHRC-funded Covid in Cartoons project. Throughout November, the team presented a selection of posts, stories and live drawing, developed in partnership with Cartooning for Peace, to address three key themes: environment, inequalities, and the COVID-19 pandemic. Young people aged 15-25 were invited to participate in the Cartoonathon by sharing thoughts about the artwork and submitting their cartoons to a competition. A winner has now been selected for each theme.
Josh Almonte, Philippines (Environment & Biodiversity)
Siyabonga Nhlengethwa, South Africa (Social & Material Inequalities)
Johannes Jay Nkuna, South Africa (Covid-19 Pandemic)
Congratulations to all winners, who were selected with the help of two professional cartoonists from our partner organization, Cartooning for Peace: Zach (Philippines) and Cam de la Fu (Venezuela/Mexico). Some feedback from the cartoonists below:
There are three essential and major ways to make your cartoon impactful: at least the drawing should be clear, the message is understandable, and it should be relevant. [This criteria is] how I chose the winner of the Cartoonathon competition. – Zach
[The winning cartoon was] a good mix between a good idea and a good graphic. You can understand it immediately, we can erase the words on top and you also understand it […] For me it is really important to try to eliminate the most elements and just have the essential items to communicate the idea. –Cam de la Fu
Political Cartoons and Conflict
20 May 2021
We hosted an online roundtable on "Political Cartoons and Conflict", with Sylvain Platevoet from Cartooning for Peace, and cartoonists Pedro Molina and Alaa Satir, moderated by Prof. Peter Vale. The recording is now available from the Covid in Cartoons Youtube playlist which can be viewed below.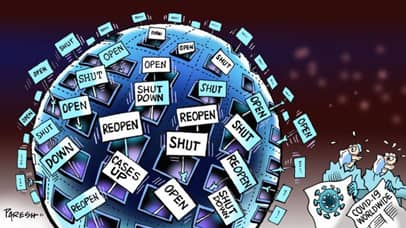 Paresh (India) - Cartooning for Peace