Pollen and Spore Counts
This page is dedicated to reporting the pollen and fungal spore levels in the East Midlands, paying particular mention to those known to be allergenic.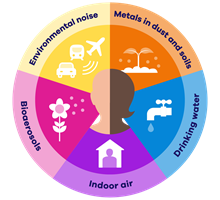 This page will be updated regularly in the peak season (June/August) and as and when necessary outside these months.
The information provided is for the interest of, and use by, the general public only. Last updated 27 September 2023.
The grass pollen season is over and reporting has ended. Reports will start again in May 2024 as the new season starts.
Weed pollen season is now over reporting will start next year 2024 when levels rise in the summer.
The tree pollen season is over. Reporting will start again in January 2024 with the spring tree pollen season.
Fungal spore levels are moderate. Alternaria and Cladosporium dropped below the allergenic threshold all last week.