Knowledge Mobilisation
Knowledge Mobilisation Lead: Dr Joshua Vande Hey
Introduction to knowledge mobilisation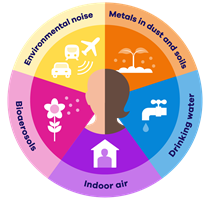 Knowledge mobilisation is about bringing together different communities to share knowledge to catalyse change. Knowledge mobilisation is a two-way process that enables advances in health protection research to create benefits for patients and the public; supporting research informed decision-making by policy makers, public health practitioners, the public, and other stakeholders.
Effective knowledge mobilisation involves:
researchers who engage with the policy, practice, research and public communities where their research can make a difference, as part of devising their research questions, to ensure that they address important questions in a useful way
researchers influencing decision-making processes in policy, practice and elsewhere through having a 'seat at the table' alongside other approaches to dissemination
increasing understanding of the value of research, including limitations, among those who can use research findings.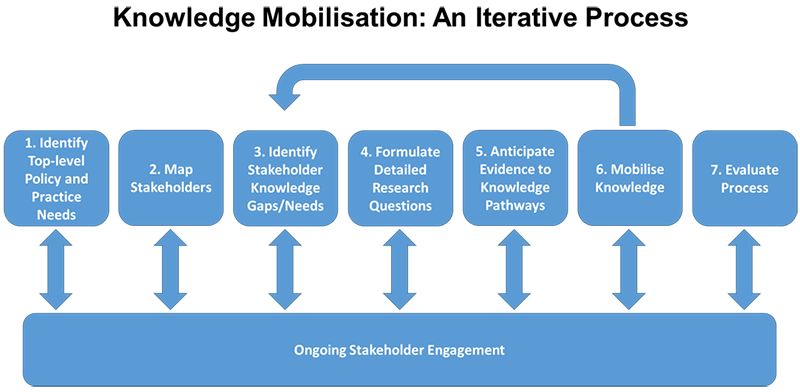 An iterative process for knowledge mobilisation highlighting sustained stakeholder engagement and feedback of knowledge mobilisation learning back into guiding the research.
The steps involved in knowledge mobilisation are:
Identify overarching policy/practice needs
Map key stakeholders
Meet with key stakeholders to understand their evidence and knowledge gaps and the nature and format of evidence needed; identify critical engagement points based on our need and their capacity
Work with science team to formulate research questions and study designs to address evidence gaps
As preliminary results emerge, consider process for moving from generating evidence to embedding knowledge:
Identify likely dissemination pathways (policy briefs, SOPs, practitioner training, etc.)
Support scientists in effective communication of preliminary data
Share relevant examples of good practice KM materials
Engage relevant stakeholders for feedback
Mobilise knowledge: Generate policy briefs, SOPs & good practice guides, public facing press releases, practitioner training
Evaluate impact and effectiveness of KM including through stakeholder feedback
Capacity building and training
KM training sessions are incorporated into the HPRU's annual training cycle. We have identified key resources including:
Health and Safety Executive Knowledge Management Toolkit—knowledge sharing tools that have been developed for KM at individual and team level, and for knowledge retention;
NHS e-learning resources on KM;
Training will include:
Delivery of KM training session for HPRU PhDs and research staff yearly at the annual conference;
Half-day workshop on KM and PCIEP later in 2021;
Development of a short training game focused on building understanding of different audiences for KM outputs
Embedding KM within our HPRU PhD studentships, including in the planning phases of the PhDs.
Engagement with wider policy-makers, professionals, industry and the public
We aim to produce KM outputs that are in the most relevant format for the target audience(s) and taking into considering their needs and the range of actions options for change available to them. The knowledge mobilisation undertaken will consider impacts and concerns around health inequalities across the work of the HPRU.
Identification of stakeholders
Stakeholder mapping analysis will be maintained and updated to identify specific, relevant and impactful target groups for the HPRU as well as for each project throughout the 5 years of the programme. This will also consider the influence of stakeholders and stakeholder interest, which will help us determine the level of engagement necessary. We will adapt the level of engagement appropriately to the stakeholder and the topic, as some stakeholders will require only occasional dissemination type engagement and others will require specific, focused and sustained dialogue and collaboration. We will identify and engage stakeholder groups beyond those who typically have a seat at the table. Example stakeholders include but are not limited to those listed below.
Learned societies and professional organisations
Other researchers
National and local government
Clinicians and health care professionals
Public communities
Industry