Michael Attenborough CBE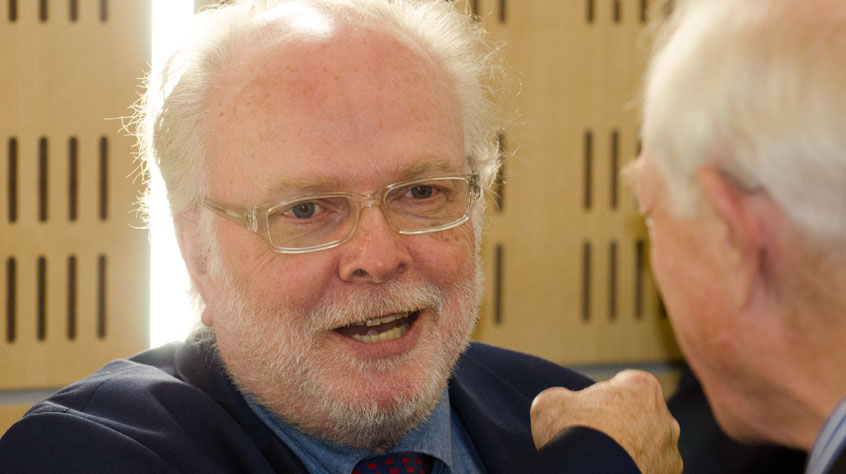 Son of Lord Richard Attenborough, Michael is the recipient of a University of Leicester Doctorate, and is now a Distinguished Honorary Fellow. Upon receiving his Fellowship Michael said:
I am immensely honoured to receive this Distinguished Fellowship from the University that is so deeply embedded in the life of my family. The Attenborough Building and the Attenborough Arts Centre stand as visible testimony to that historic relationship and I feel incredibly proud to stand in some small way alongside my beloved grandfather, father and uncle.
His most recent formal visit to campus was on Remembrance Day 2018 when, together with Sir David Attenborough, he helped to launch the University's centenary celebration at the dedication of Centenary Square in the centre of campus. Michael also has regular meetings with our President and Vice Chancellor, Nishan Canagarajah, and also enjoys visits to the Attenborough Arts Centre, which he is Patron of.
Clearly, treading the boards is in his genes. He was Artistic Director of the Almeida Theatre in London between 2002–2013. Previously, he was Associate Director of the Mercury Theatre Colchester 1972 to 74, the Leeds Playhouse (now West Yorkshire Playhouse) 1974 to 1979, the Young Vic 1979 to 1980, then Artistic Director of the Palace Theatre, Watford, 1980 to 1984, Artistic Director of Hampstead Theatre 1984 to 1989.
He was Principal Associate Director and Executive Producer of the RSC from 1990 to 2002. He continues to be an Honorary Associate Artist of the RSC.
In 2012 Attenborough was presented with the Award for Excellence in International Theatre by The International Theatre Institute. He was appointed CBE in the 2013 Birthday Honours for services to theatre.
He has directed productions such as Macbeth for the Queensland Theatre Company, As You Like It for the Shakespeare Theatre Company in Washington D.C, and a UK national tour of J.B. Priestley's Dangerous Corner in 2014.
Most recently he was appointed Director Emeritus of the Royal Academy of Dramatic Art (RADA).
Listen to Michael Attenborough on the School of Arts podcast My Life in Books (Soundcloud link)