Sir David Attenborough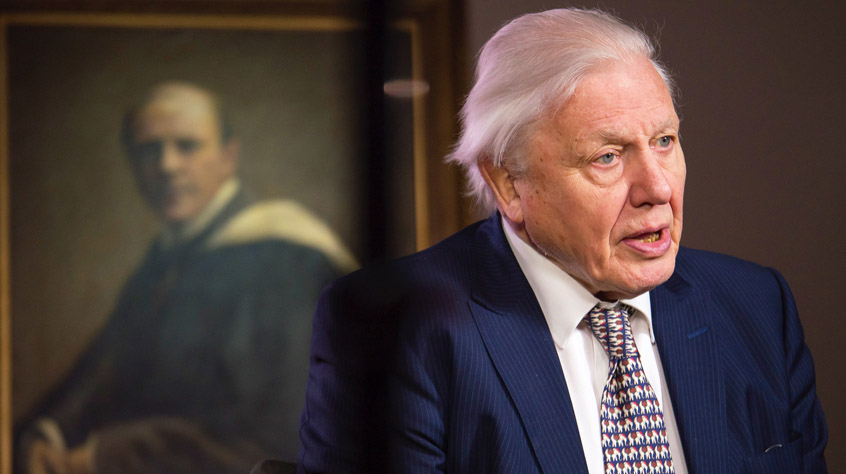 Before David became the face and voice of the natural world that we all know and love, he lived on campus from the age of 5.
The College campus must have been an exciting place for the Attenborough brothers to play and explore. At that time the Fielding Johnson Building still retained some of the original padded cells from when it was a Victorian lunatic asylum, and on one occasion his brother, Richard, mischievously locked David inside one.
Life on campus could also be profitable. When the Zoology Department needed newts, David went pond-dipping for amphibians and sold them to the College at three pence each.
He stayed at Leicester throughout the war, eventually going up to Cambridge in 1945 (followed two years later by John). His burgeoning interest in natural history was bolstered by interaction with the College's academics.
Sir David returned to the University on numerous occasions, most notably in 1970 when he received an Honorary Degree, and in 2006 when he was named an Honorary Distinguished Fellow – the University's highest honour.
Sir David was on campus in 2010 for a BBC2 documentary called Attenborough's Journey, and then in January 2016 delivered a public lecture as part of the University's Chancellor's Distinguished Lecture Series. Originally announced for the largest lecture theatre on campus, this event had to be relocated to De Montfort Hall due to overwhelming demand for tickets. The following day, he officially opened the new £1.5million gallery extension at Attenborough Arts Centre.
In March 2017, Professor David Siveter (a University alum) of the Department of Geology named an exceptionally preserved 430 million-year-old fossil in honour of Sir David's 90th birthday. He and his twin brother (also an alum) presented Sir David with a 3D image of the fossil at the University's Alumni Dinner. Cascolus ravitis was derived from 'castrum' (stronghold) and 'colus' (dwelling in), alluding to the Old English source for the surname Attenborough, and from a combination of Ratae - the Roman name for Leicester - 'vita' (life) and 'commeatis' (messenger).
In November 2017 Sir David was a special guest at the naming ceremony of the University's new medical teaching building, the George Davies Centre. His most recent visit to campus was one year later on Remembrance Day 2018 when, together with Richard's son Michael Attenborough CBE, he helped to launch the University's centenary celebration at the dedication of Centenary Square in the centre of campus.
Attenborough's contribution to broadcasting and wildlife film-making has brought him international recognition. He has been called "the great communicator, the peerless educator" and "the greatest broadcaster of our time." His programmes are often cited as an example of what public service broadcasting should be and have influenced a generation of wildlife film-makers.