Frederick and Mary Attenborough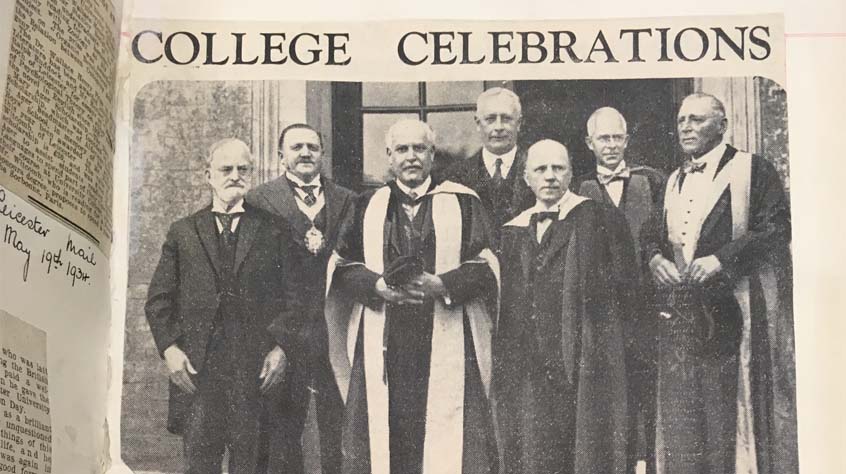 In 1932 Frederick Attenborough was appointed as the second Principal of University College, Leicester.
In support of his application to become Principal, F.F. Potter, Director of Education for Cheshire, Sir Arthur Quiller-Couch and Professor H. Munro Chadwick, wrote:
Mr Attenborough is a man of unusual charm, scholarly, cultured, artistic beyond the ordinary, buoyant yet dignified and tactful … In the work of instituting and organising the English Tripos here in Cambridge, he has steadily justified, by his good sense and loyalty, our belief in him as one of our very best men … He is a man of sound judgement, tactful and sympathetic, and very pleasant to work with …
1932 was a challenging time in the University College's history. Having been in existence for only 10 years, it was still a very small institution, financed primarily by private subscription and endowment.
Attenborough, however, brought the same 'astonishing enthusiasm and vision' and 'notable energy' that he had demonstrated at Isleworth to his new post. Despite the Depression, he was extremely successful in attracting donations and grants, thus enabling the College to expand its buildings, facilities and student numbers.
He devoted much energy to presenting the case for University Grants Committee funding, work which eventually bore fruit in May 1945, the news being hailed by the Leicester Mail as 'the most important announcement in [the College's] history'.
At the end of the war, the College, guided by Attenborough, embarked on a period of rapid expansion – new halls of residence, sports grounds, the addition of new subjects (such as social work and education), the creation of professorships from 1946 onwards.
This all culminated in the College's success in securing a Royal Charter in December 1950, shortly before his retirement through ill health.
Frederick's main recreation was photography – he had ambitions of setting up a photographic department at the University College. He contributed a fine series of images to Pevsner's The Leaves of Southwell and provided photographs for W.G. Hoskins' The Heritage of Leicestershire and Midland England. His correspondence shows that he had ambitions of setting up a photographic department at the University College:
In his introduction on the occasion of the conferment of a Distinguished Honorary Fellowship on Sir David Attenborough, a former Vice-Chancellor alluded to David's role in his father's photographic expeditions:
I understand that Fred Attenborough was always accompanied by David, and when his father wanted particularly good shots of Leicestershire landscape he also wanted to ensure that there were sufficient animals in the picture. I am told that David Attenborough had the task of driving sheep and cows from across several fields to make the picture look much more appropriate as Leicestershire as we know it.
During the years of war-time austerity at Leicester, Frederick took up gardening – and even kept hens, which he continued to enjoy in his retirement.
Alongside her work with the Little Theatre – where Richard Attenborough made his stage debut, Mary Attenborough worked tirelessly on many other local and national projects. She helped to found the Marriage Guidance Council (now Relate) in 1937 and was active in providing homes for Basque children fleeing the Spanish Civil War. Mary was a force for good, embodying the spirit of being a Citizen of Change which the University espouses today.
Frederick Attenborough retired in 1951 and moved to London with Mary, who died tragically in a car accident ten years later. Frederick passed away in 1973 aged 85.