Student support and wellbeing
Student support and wellbeing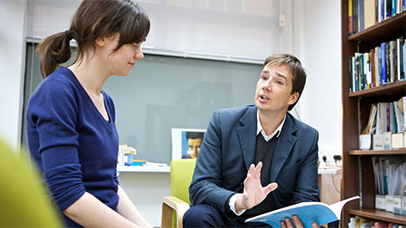 Moving to University can be an overwhelming experience – and the following three or four years can be pretty stressful at times too. Don't worry – we have been looking after students for more than fifty years: we know what it's like and we have won awards for our student support. Here is just a brief guide to some of the ways that we are here to help you outside the lecture theatre.
Wellbeing
Our Student Wellbeing Service offers a wide range of free and confidential services to any students who need them. We encourage you to get in contact with us before you arrive so that we can make preparations in advance, however you can, of course, access the service at any time during your time at Leicester.
Report and Support
Our online Report and Support system is designed to allow you to report any incident affecting you (or someone else) on the system anonymously or by leaving contact information. You can also find out about additional support information through the support webpages.
Student Learning Development
Student Learning Development provides a wide range of resources and opportunities for students to develop their academic and employability skills. You can also use make use of online tutorials and information resources, themed workshops and one-to-one study consultations.
Chaplaincy
Whatever your faith – or even if you have none – our Chaplaincy is a place to meet new friends, to relax, pray and discuss things that matter to you. Our Chaplains provide support, advice and counsel and are always happy to discuss matters of faith with any of our students. We have World Faiths Advisers for Jewish, Muslim, Christian, Hindu, Sikh and Buddhist students. Muslim students have prayer rooms set aside for their needs on campus. The Chaplaincy is a base for faith-related student societies and discussion groups and also organises the University's celebrations of Easter and Christmas.
Childcare
Staff or students with pre-school children can use our on-campus day nursery. Children are accepted from three months to five years at the nursery, which is open weekdays from 8.00am to 6.00pm throughout the year.
Care leavers
The University is keen to assist and support young people who have been in local authority care. If you are under 25, you may qualify for an annual Care Leavers' Bursary of £2,000 for each year of your undergraduate course. Our Student Welfare Service can provide you with information and advice before you come to Leicester and support while you are with us. If you have indicated that you are a care leaver on your UCAS application we will contact you a few weeks before you are due to start study. Alternatively contact welfare@leicester.ac.uk for an application form.