Enterprise in the curriculum
Partnerships with businesses are integral to the foundations upon which the School of Business builds its curriculum and student experience. This is part of the School's ethos to develop borderless leaders and create a relationship with Leicester for life.
Entrepreneur in Residence
The Entrepreneur in Residence is a support service which allows students, staff and alumni to discuss their entrepreneurial plans with an entrepreneur. Through one-to-one conversations you can explore the skills needed to be an entrepreneur, discuss initial exploratory ideas, and gain an insight into start-up business planning. This is a voluntary arrangement and the time commitment is estimated to be 3 hours per month. The Entrepreneur in Residence programme is designed to complement and feed into the 'Launchpad Leicester Online'.
Employers in the curriculum
To help prepare students for their future careers we embed employer insight and experiences within the curriculum design, development and delivery.
This can take the form of guest lectures for our campus or distance learning students, where employers share insights into the challenges that they confront and how they tackle these. Alternatively, the involvement can consist of live case studies, participating in a presentation panel or providing mentoring and support to our students.
Internships and placements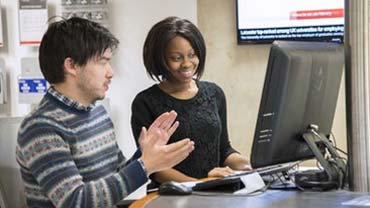 Our undergraduate programmes feature a placement year option where students are able to take a year away from the classroom to develop their experience and employability skills. We are looking for organisations who are able to work with the School to offer engaging placement opportunities to our students. For the employer, this provides a source of new talent and increased staff resource.
In contrast to the longer term commitment of placements, internships are periods of short (4-12 weeks) on the job experience for students either during their studies or upon graduation. These offer students an opportunity to gain valuable experience and can offer flexible support to help you meet your business needs, and act as a talent pipeline for future recruitment.
For more information, please get in touch with us.
ulsb.business@le.ac.uk