Growth Accelerator for Social Entrepreneurs
Welcome to the Growth Accelerator Programme for Social Entrepreneurs, funded by UK Government via Leicester City Council. Its objectives are to keep you in business, protect and create jobs, and to help you grow.
The programme includes:
Onboarding and auditing your organisation's growth potential
Five themed online masterclasses
24-hour access to online course materials
Connecting you to a small group of social entrepreneur peers to create a super team 'Growth Circle'.
Five 'one to one' business coaching sessions.
Monitoring
There is no cost to you to participate. The full £5,700 programme cost of the Growth Accelerator is paid for by Leicester City Council through the UK Government Levelling Up funds.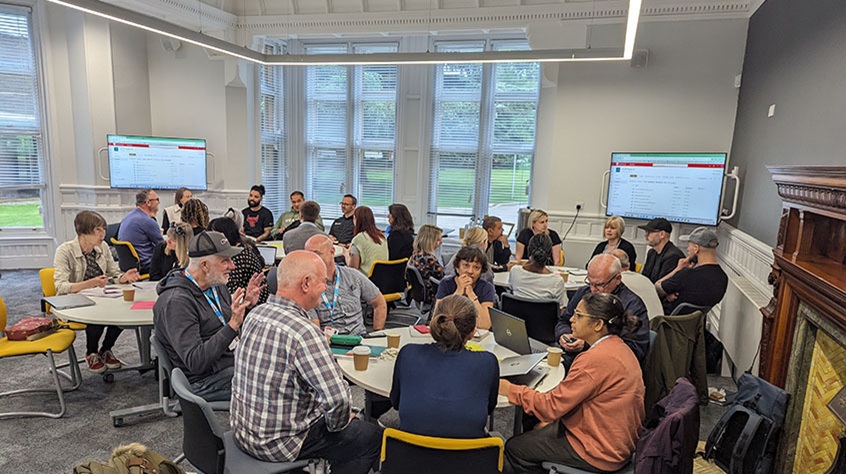 When onboarding you to the programme, we will work with you to discover what you have done so far, the stage you are at, the challenges you are facing, and what you want to achieve from the programme.
We then tailor the Growth Accelerator programme to meet your needs.
Key benefits to you and your social enterprise
Audit your skills and strengths
Enhance your management and strategic capabilities
Increase capacity and improve operational efficiency to save time and money
Learn how to innovate, lead change, and optimise your business model
Adopt digital technologies to boost productivity and operational agility
Increase social impact
Build business resilience and agility
Expand and reach into new markets
Grow your income streams
Co-produce new projects and access new income streams
Develop working partnerships with other social enterprises
Crowdsource solutions to real challenges faced by social enterprises
Network and learn alongside social leaders from a range of different sectors
Develop a Growth Action Plan to drive your social enterprise forward
Growth Circles
We will match you to super teams of social entrepreneurs, known as Growth Circles. You'll be part of a group of 5-8 social entrepreneurs who will meet to support each other on your journeys. Each Growth Circle will be supported by a consultant to cover a range of business growth topics. In these sessions we will take turns to use your enterprise as a case study, and you will use the power of the group to problem solve and move your business forward. We hope that the relationships you develop in your Growth Circles will continue after the end of this programme and continue to provide ongoing support to you and your business.
Project partners
This programme is delivered by the University of Leicester School of Business (ULSB) in partnership with the Cooperative and Social Enterprise Development Agency (CASE), and Community Enterprise Engine (CEE).
ULSB offers leadership and management programme expertise, most recently co-developing and delivering the Government's Help to Grow: Management course.
CASE has been supporting the growth of the social economy in Leicester for over 40 years.
CEE was born from 5 years of leading social enterprise support at Voluntary Action Leicestershire and was formed to help community venues diversify their trading income streams.
University of Leicester benefits
As part of this programme, you will receive a University of Leicester IT account and ID card. Your ID card will grant you access to the School of Business Brookfield campus on London Road where meet up spaces are available in the ULSB Hub. Your IT account offers virtual meet up spaces on Blackboard, library access and an email account for the length of this project.
There will also be opportunities for you to access the talent of School of Business staff and students through volunteering, projects, and placements. Developing relationships with academics and researchers, may result in you becoming a case study or a subject for research. Innovate UK, for example, provides part funding for research and development projects with universities.
Eligibility
The Growth Accelerator is available to social enterprises based within the Leicester City Boundary.
Our funding agreement uses the term 'social enterprise' to include the following types of business:
Where the social or societal objective of the common good is the reason for the commercial activity, often in the form of a high level of social innovation
Whose profits are mainly reinvested to achieve this social objective
Where the method of organisation or the ownership system reflects the enterprise's mission, using democratic or participatory principles or focusing on social justice
There is no single legal form for social enterprises. Many operate in the form of social cooperatives, some are registered as private companies limited by guarantee, some are mutual, and a lot of them are non-profit-distributing organisations like provident societies, associations, voluntary organisations, charities, or foundations.
Next steps
Register for the Growth Accelerator programme
Register now - book in for your first 1:1 and skills audit
Have a question? You can email us at ulsb.business@le.ac.uk or call us on 0116 252 2167 to find out more
Funding
This project is funded by the UK Government through the UK Shared Prosperity Fund. Read more about the Leicester City Council Shared Prosperity Fund.
The UK Shared Prosperity Fund is a central pillar of the UK government's Levelling Up agenda and provides £2.6 billion of funding for local investment by March 2025. The Fund aims to improve pride in place and increase life chances across the UK investing in communities and place, supporting local business, and people and skills. Find out more.