Distance Learning Events
As a distance learning student at the School of Business you will have the opportunity to participate in the annual Leicester Masterclass - a week long residential that takes place at Brookfield. In addition Leicester MBA students attend bi-yearly Residential Workshops held online and in-person.
Leicester Masterclass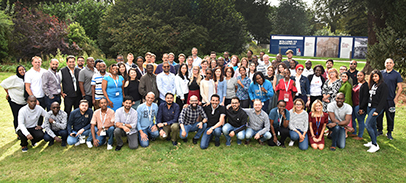 The Masterclass has been a key event in the School's academic year for over 30 years, and provides a fantastic opportunity for our global community of distance learning students, alumni and staff to come together for a week of learning and networking.
During the COVID-19 pandemic the School responded to the challenge of not being able to welcome students in person by innovatively creating our online Masterclass. In 2020 this was our Online Learning Experience (OLE) and in 2021 we offered the Online Sustainability Challenge (OSC).
The Online Learning Experience featured a month-long programme of events and activities that allowed students to lead virtual teams and produce proposal for their organisations aimed at responding to the pandemic. The online learning resource - the OLE Exhibition - was built as a virtual museum with collections of carefully curated articles, videos and podcasts and featured an auditorium where School of Business academics offered expert opinions on the challenges and opportunities presented by the pandemic to organisations and societies.
Building on the success and feedback of the OLE, the Online Sustainability Challenge was created through the recognition that focused attention and action on climate change needs to be both collective and individual. The challenge therefore, was designed specifically to meet the global need for more sustainable business practice and to do this by raising the awareness of, and the commitment to sustainability of key business influencers. Students attending the OSC also had the opportunity to achieve a personal carbon literacy accreditation premised on their individual commitment to change.
For the 2022 event we are delighted to be able to welcome students back to Brookfield in-person. The Leicester Masterclass 2022 is themed around social enterprise. As the world we live in seems to lurch from one crisis to another, the Masterclass will explore the role that business can play in improving the economic, environmental and social contexts within which we all live. We will draw on our students' business acumen and entrepreneurial skills to produce new ideas for improving the ways in which we do things.
Underpinning all of our Leicester Masterclass themes is the School of Business' commitment to the United Nations Principles of Responsible Management Education (UN PRME).