Poor urban air quality is a major development issue globally, placing a huge burden on public health and in turn the economy, with 3.2 million premature deaths each year attributed to outdoor fine particulate matter air pollution, according to the Global Burden of Disease 2010 project.
In Kenya, half the population will be living in cities by 2050. The population of its capital city Nairobi is approaching 4.5 million and the number of vehicles is growing exponentially, generating emissions that are dangerous for the public - especially for vulnerable groups working alongside the roadways. Air quality is deteriorating due to the increasing traffic and inadequate air pollution policy and regulation. The emissions caused by burning industrial waste, rubbish and urban biomass, as well as natural mineral dust, all contribute to this situation. Yet air quality data is often unavailable, and the sparse data that does exist often omits gaseous air pollution.
Dr Joshua Vande Hey, Lecturer in Environment and Health in the University's School of Physics and Astronomy and a member of the Centre for Environmental Health and Sustainability, has strengthened the capacity within Nairobi to monitor and improve air pollution. His research background is in optics and atmospheric sensor engineering, but his research has broadened to understanding indoor and outdoor air pollution, evaluating its effects on human health, and assessing the effectiveness of exposure mitigation strategies.
Identifying the sources of Nairobi's air pollution
In Nairobi, 40% of journeys are made using public transport and 49% are made by foot - primarily among the low-income population. Additionally, low-income residents often work at informal businesses alongside major roads, leaving them particularly vulnerable to the negative health impacts of air pollution which include asthma, infant mortality and premature death through heart and lung disease, making exposure reduction a pressing need. Although Nairobi's public transport fleet is relatively new, buses lack particle filters and are considered a major source of certain pollutants. Dr Vande Hey, with collaborators led by Professor Madara Ogot at the University of Nairobi, is assessing the potential to reduce emissions through retrofitting the existing Nairobi public transport bus fleet with Diesel Particulate Filters (DPFs). In order for the Government to demand or incentivise retrofits for the many private sector companies involved, clear scientific assessment of the impact of the intervention was needed. Such an assessment requires understanding of local transport policy and experience with air pollution monitoring and mitigation. This British Council Newton Utafiti-funded project - the first such endeavour in Kenya - built a strong relationship between the Universities of Leicester and Nairobi and is moving towards enabling the Kenyan Government to develop policy to improve the health and welfare of its low-income urban populations.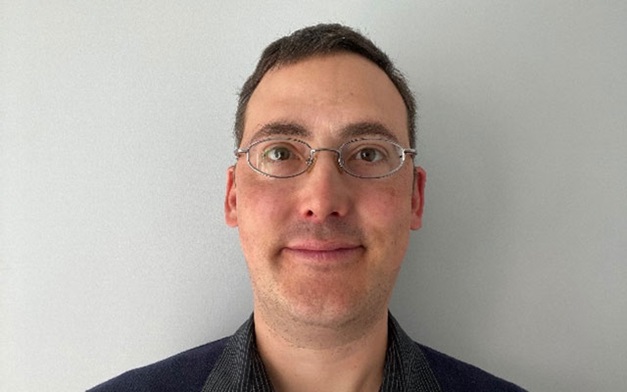 Dr Joshua Vande Hey, Lecturer in Environment and Health in the University's School of Physics and Astronomy and part of the Centre for Environmental Health and Sustainability, has strengthened the capacity within Nairobi to monitor and improve air pollution.
Building capacity for air quality improvements
Building on his research into air pollution emissions, Dr Vande Hey has helped to develop Nairobi's capacity to monitor air quality through the design, commission and installation of an air quality station, with key technical contributions from University of Leicester atmospheric science researcher Dr Rikesh Panchal. Additional funding from Research England allowed critical follow-on work to be completed, which included modifying the equipment for the local environment.
Dr Vande Hey, Dr Panchal and their colleague Dr Rebecca Cordell trained early career researchers from the University of Nairobi on air quality science and the use of sampling equipment to increase capacity for air quality monitoring within the city. The team of Nairobi and Leicester researchers implemented long-term plans for the station to gather data to drive science and inform policy and the public. They also conducted a week-long traffic emissions measurement campaign in Nairobi to gather data on volatile organic compounds, which developed local knowledge for future sampling and can be built upon to underpin future emissions policy. Dr Vande Hey has also spoken at the Stockholm Environment Institute Nairobi to researchers and county policy stakeholders to highlight environmental data needs and opportunities for developing effective public health policy, and also helped to train Nairobi County environment and health officials.
The project aimed to provide policymakers, public health officials and the general public with robust air quality information. This data and knowledge will drive air quality improvements in Nairobi and reduce the impact of poor air quality on health, providing particular benefits to the vulnerable populations exposed to pollution on roadsides.
Air pollution and COVID-19
During the COVID-19 pandemic, Dr Vande Hey is exploring - along with Dr Caradee Wright of the South African Medical Research Council (SAMRC) - the associations between air pollution exposure and elevated risk of COVID-19 symptoms in four provinces in South Africa with the highest level of COVID-19 cases to date. Using ad hoc questionnaires across various demographic groups, the diverse team of Leicester and SAMRC researchers are gathering details relating to changes in indoor air quality during lockdown, self-reported respiratory symptoms and COVID-19 cases. These findings will be related to other air pollution and public health data. As part of this project, Dr Vande Hey and his collaborators will explore the changes in behaviours impacting air pollution exposure during lockdown, which could provide important public health information for protecting the most vulnerable groups in society who often face very high levels of air pollution.
This project is part of the University of Leicester's portfolio of Global Challenges Research Fund projects, carrying out cutting-edge research in partnership with local universities, policymakers and communities that addresses the challenges faced by countries experiencing chronic disadvantage. The University of Leicester was one of only ten institutions across the country commended by Research England for its GCRF strategy.