When it comes to matters of the heart, André Ng is the electrician.
As Professor of Cardiac Electrophysiology, and a Consultant Cardiologist and Electrophysiologist, his work focuses on the electrics of the heart, the messages that go between the heart and the brain, and what controls them. If those messages don't get through, our hearts can start beating erratically or suddenly stop beating altogether.
The good news is that the fields of sudden cardiac death and atrial fibrillation (AF) have moved on swiftly in the last 10 to 15 years.
Professor Ng says: "Ways to fix a heart are at our fingertips for the vast majority of patients. We are doing life-changing stuff every day. A lot of new things are happening and all for the common good of improving patient outcomes."
But, despite these advances, around 100,000 people in the UK still die every year as a result of sudden cardiac death.
As well as heading up the Department of Cardiovascular Sciences, Professor Ng leads a research team working on sudden cardiac death prevention and prediction, and atrial fibrillation mechanisms.
They hold two international patents on technology that is currently being developed to predict sudden death risk. It has the potential to save thousands of lives.
By implementing AI and other cutting-edge technologies, Professor Ng's research is helping to shape future developments in this field.
What causes the electrics to fail?
Heart rhythm disturbances occur when the electrical impulses that co-ordinate the heartbeat don't work properly. This can happen in patients of all ages from teens to centenarians.
Atrial Fibrillation is the most common heart rhythm disturbance, whereby parts of the heart essentially 'misfire', causing the heart to beat irregularly and often more quickly. Patients with the condition can have dizzy spells, heart palpitations and shortness of breath.
Cardiac procedures such as AF ablation can fix these kind of arrhythmias and restore a regular heart rhythm.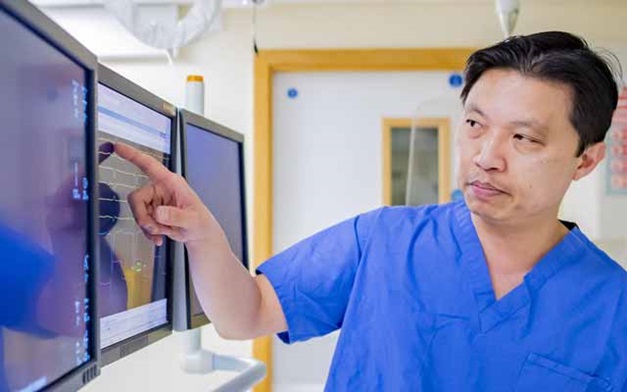 We freeze, or burn away a bit of heart tissue – the parts that are 'misfiring' in order to correct the electrical signals and the patient will not then have the problem again.
Tens of thousands of these procedures are carried out every year but Professor Ng says his research shows there is a huge need for improving effort in picking up AF earlier in patients. He says: "We need to increase the awareness in patients and clinicians, improve our effort in picking up AF early in patients have a more proactive approach all round. The data advises against complacency in care and this message is unequivocal."
If the heartbeat slows, a pacemaker can be fitted. Professor Ng says: "Before the pacemaker was first developed patients were dying in front of our eyes. You put a pacemaker in and you can literally see a patient coming back to life. We don't stop at any age for pacemakers."
Sudden death can strike without warning, in the same way we do not know when one of the light bulbs in the house goes out. There is a big need in developing effective ways to predict the likelihood of the potentially lethal events in high risk patients so we can implement effective treatment. High-risk patients are fitted with an Implantable Cardioverter Defibrillator (ICD) which will charge up and shock the patient if their heart stops. But only 40 out of every 100 ICDs ever get used so 60% of devices are implanted without the need for them. The difficulty is predicting which patients are at risk.
Predicting sudden cardiac death
Professor Ng has developed two markers that could predict which patients are at risk of sudden cardiac death. It is the culmination of a decade of research.
Together with the late Professor John Coote, he identified a property of the heart muscle called 'electrical restitution' – a dynamic of the heart's electrical system that can determine how easy it is for abnormal rhythms to occur.
Based on this discovery an interdisciplinary team at the University of Leicester, led by Professor Ng, is in the process of developing award winning technology called LifeMap™. The potential for this technology has been recognised with a Da Vinci Award, a Medical Futures Innovation Award 2011 and the European Heart Rhythm Association Inventors Award 2016.
Professor Ng says: "There is no other tool like this. It is addressing a major clinical gap in identifying patients who are at risk of sudden death. A lot of these patients will die if there is no one nearby."
Using a wire inserted into the groin and up into the heart this new measurement has already been embedded into ECG recordings. The next job is to make it into a much more user-friendly tool.
The team have been awarded funding of over £1 million from the Medical Research Council's (MRC) Developmental Pathways Funding Scheme.
Professor Ng is working with Dr Fernando Soares Schlindwein, a Biomedical Engineer in the School of Engineering at the University of Leicester, Professor Huiyu Zhou, a Machine Learning specialist in Computing at the University of Leicester and Dr Will Nicolson at the University Hospitals of Leicester NHS Trust to develop a non-invasive, treadmill test that could potentially be used in conjunction with a noise-reduction garment, enabling the beating of the heart to be better captured and assessed. Once this exercise platform is established the plan is for this to be road tested in health centres across the UK. As soon as that is done it will be applied to a large clinical study, with potential to change the medical landscape globally on this issue.
What lies on the horizon?
AF affects one in 10 of people over 70, increasing their risk of stroke five fold.
Whilst ablation is effective in AF patients when diagnosed early, it proves to be more challenging in more advanced stages of the disease.
Professor Ng says: "Atrial fibrillation has really opened our eyes to what we can do with scientific machinery and clinical know-how. In the next five to ten years we will undoubtedly see a lot of change.
"We are using new tools, including harnessing the power of AI and technology every day in the drive to do things better, faster and safer. We have a very close working relationship with medical device companies and often provide input at various stages of the research and development processes. As a result, we have early access to novel mapping and ablation technologies, an example of which is a superfast AF ablation procedure which we were privileged to do the first procedures in the UK, with a significant reduction in the procedure time and better patient experience facilitating same day discharge.
"We have also contributed to important multicentre international studies as the national co-ordinating study. One recent important study has demonstrated robust data that support the early rhythm control treatment of AF over and above what we are normally doing according to current guidelines. This would trigger a rethink of the guidance and emphasises the importance of early diagnosis.
"We need to increase the awareness in patients and clinicians, improve our effort in picking up AF early in patients, with the early diagnosis implement blood thinners in patients who need them and consider a rhythm control approach and not wait and see if the rate control approach works. This applies to patients across different subgroups - including patients who are not symptomatic, with and without heart failure, or have increased BMI. This requires a much more proactive approach all round. The data advises against complacency in care and the message is unequivocal."
What can we do to look after our hearts?
When it comes to looking after our hearts Professor Ng says be sensible and strike the middle ground. Eat healthily and do things in moderation. Doing nothing is bad – doing something in moderation is probably the best way to keep the heart healthy. He said: "Exercise is good for the heart and being active is healthy, but doing too much might not be that wise. Sports fanatics put a lot of demand on the heart and we see a lot of young people developing heart rhythm problems because of that." Rest, he says, is also important.