Globally, type 2 diabetes is on the rise. It remains one of the world's fastest growing global diseases with a devastating impact.
Cutting edge research
Leicester is home to the world-leading Leicester Diabetes Research Centre where cutting edge research into type 2 diabetes and multi-morbidity management is bringing new drug and lifestyle therapies for the management and prevention of this disease.
One of the leading lights in this field of research is Professor Melanie Davies, whose work has led to a breakthrough in the fight to tackle obesity and type 2 diabetes.
Professor Davies is a clinician with over 25 years' experience working as a diabetologist and is an Emeritus NIHR (National Institute of Health Research) Senior Investigator, one of only a handful in the UK. Along with Professor Kamlesh Khunti, she is co-director of the Leicester Diabetes Research Centre, and is also Director of the NIHR Biomedical Research Centre. She has more than 600 publications and in the last ten years has brought in over £60 million of funding.
Supporting weight loss to control blood glucose
One of Professor Davies' most recent research projects was a study published in The Lancet into the drug semaglutide which highlighted how patients with type 2 diabetes who were treated with a weekly injection of the drug were able to achieve an average weight loss of nearly 10kg.
The study showed that two thirds of patients with type 2 diabetes that were treated with weekly injections of a 2.4mg dose of semaglutide were able to lose at least 5% of their body weight and achieved significant improvement in blood glucose control.
More than a quarter of patients were able to lose more than 15% of their body weight - far above that which has been observed with any other medicine administered to people with diabetes.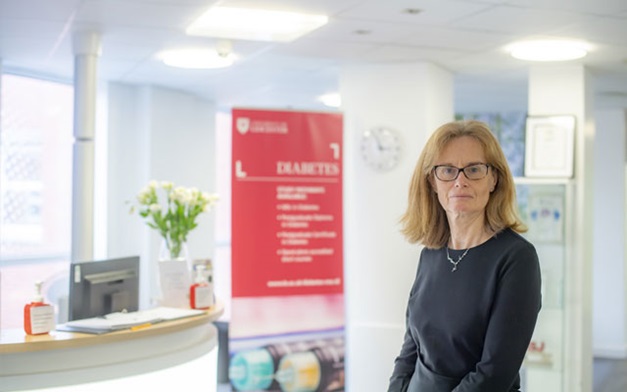 These results are exciting and represent a new era in weight management in people with type 2 diabetes - they mark a real paradigm shift in our ability to treat obesity, the results bring us closer to what we see with more invasive surgery.
Global action on diabetes
In November 2020, Professor Davies was named as part of a team of 40 global experts which published a new report in The Lancet calling for global action to combat diabetes and close the gap in prevention management and care.
Professor Davies was also awarded a further £2.5 million programme grant by the NIHR to develop new and innovative ways of tackling early onset type 2 diabetes.
She said: "We are seeing an increasing number of people developing diabetes under the age of 40 and also an increasing number of children and young people being treated with type 2 diabetes with the number increased by 50% in just the last five years.
"Our mission is to drive forward new approaches for the prevention and management of type 2 diabetes both by testing and evaluating self-management and support for people living with diabetes but also looking at new lifestyle and drug interventions and using these in new ways and in new combinations."