Events
The Centre for New Writing offers a variety of free events throughout the year, which are open to all. Events are typically held on the University campus.
Listen to recordings of past events held by the Centre.
Upcoming events
John Gallas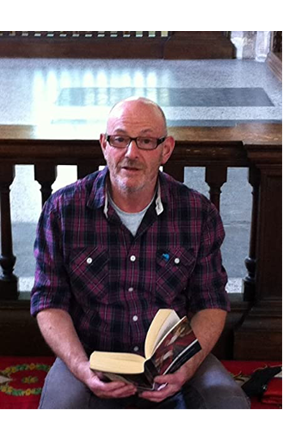 The Centre for New Writing and New Walk Editions welcomes the poet John Gallas for a reading and Q&A
4pm - 5.30pm Thursday 9 December 2021 (Belvoir City Lounge, Charles Wilson Building, University of Leicester
John Gallas was born in New Zealand in 1950. He came to England in the 1970s to study Old Icelandic at Oxford and has since lived and worked in York, Liverpool, Upholland, Little Ness, Rothwell, Bursa, Leicester, Diyarbakir, Coalville and Markfield, as a bottlewasher, archaeologist and teacher. He is the editor of two books of translations – 52 Euros and The Song Atlas - and eleven collections of his own poetry, all published by Carcanet. He is a Fellow of the English Association and was 2016 Orkney St Magnus Festival poet.
John will read from his new New Walk Editions pamphlet, Aotearoa / Angleland: 30+30 Tankas, as well as from other recent work.
Free and All Welcome!
Andrew Mitchell, 'Elegy for Keats and Shelley'
4pm - 6pm Monday 6 December 2021 (Belvoir Park Lounge, Charles Wilson Building, University of Leicester)
Andrew Mitchell is a poet whose narrative poem sequences on figures such as Darwin and the Younger Romantics explore historical social, philosophical and spiritual questions. He has worked with musicians, singers and dancers to create live performances of his work across the UK and Europe. He will offer a recital of some extracts from his recent elegiac work addressing the deaths of Keats and Shelley and their poetic afterlives.
Fred d'Aguiar, A Year of Plagues
4.00pm - 5.00pm, Thursday 28 October 2021 (Belvoir City Lounge, Charles Wilson Building, University of Leicester)
The Centre for New Writing and Renaissance One present a Literary Leicester event.
Award-winning British-Guyanese writer, Fred D'Aguiar, turns to memoir in Year of Plagues, a piercing and unforgettable recollection of the past year
2020 was a year of global and personal crisis for Fred D'Aguiar: the pandemic, the Black Lives Matter movement, California burned, and D'Aguiar was diagnosed with stage 4 cancer. Combining personal reminiscence and philosophy, Fred's work questions the purpose of pursuing a life of writing and teaching in the face of overwhelming upheavals. Harrowing yet uplifting, a memoir of existence, protest, and survival.
Poet, novelist and playwright, d'Aguiar has won the Malcolm X Prize and the T.S. Eliot Prize for Poetry, the Whitbread First Novel Award, the David Higham Prize for Fiction, and has been shortlisted for the James Tait Black Memorial Prize for fictionr. He is a Professor of English at UCLA.
Spaces are limited.
Please contact Harry Whitehead on hdw5@le.ac.uk to secure a place.