Events
The Centre for New Writing offers a variety of free events throughout the year, which are open to all. Events are typically held on the University campus.
Upcoming events
Val McDermid: 10th Annual Creative Writing Lecture: Killing People for Fun and Profit
Thursday 12 May 2022, 6.15pm, Peter Williams Lecture Theatre
This event has been postponed due to Covid. New date to be confirmed. Current ticketholders' tickets will remain valid for the rescheduled event.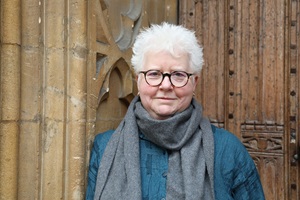 Please pre-book tickets for Val's lecture.
Dubbed the Queen of Crime, Val McDermid has sold over 15 million books to date and is translated into over 40 languages. She is perhaps best-known for her Wire in the Blood series, featuring clinical psychologist Dr Tony Hill and DCI Carol Jordan, which was adapted for television starring Robson Green. Her most recent novel Out of Bounds was a number one bestseller and her brand new novel Insidious Intent was published in August.
As well as producing a bestselling novel every year, Val is a regular on TV, radio and in print. Her recent projects include two BBC Radio 4 dramas, chairing the Wellcome Book Prize and captaining the 2016 winning University Challenge alumnae team! Her awards, too numerous to list, include the Outstanding Contribution to Crime Fiction Award, the CWA Gold Dagger for best crime novel of the year, the Grand Prix des Romans D'Aventure, the Lambda Literary Foundation Pioneer Award and the LA Times Book of the Year Award, as well as Celebrity Mastermind champion. She is a Fellow of both the Royal Society of Literature and The Royal Society of Edinburgh.
Val will be discussing her writing, her inspirations and the fatal attraction of crime fiction!
Amitav Ghosh with Clare Anderson, Mark Williams and Caroline Upton: The Climate Emergency: Creating A Dialogue Between Science And The Arts
Tuesday 7 June 2022, 6.00pm-7.30pm, online event
Please pre-book tickets for The Climate Emergency online event.
It's 2022 and everybody is talking about the climate emergency, but what does it mean in a global context with plural perspectives? Join Amitav Ghosh, author of The Great Derangement: Climate Change and the Unthinkable (2016) and The Nutmeg's Curse: Parables for a Planet in Crisis (2022), and a panel of experts chaired by Clare Anderson as we engage in dialogue between the sciences and the arts in thinking about the climate emergency.