Events
The Centre for New Writing offers a variety of free events throughout the year, which are open to all. Events are typically held on the University campus.
Upcoming events
"Windrush Stories": Visiting Caribbean writer event with Paulette Ramsay
Wednesday 19 October 2022, 5.00pm - 6.00pm, Attenborough Building Seminar Block, Room 206
Paulette Ramsay is a writer and academic based in Jamaica. She is Professor of Afro-Hispanic studies at the University of the West Indies, Jamaica. She's also published two novels, Aunt Jen, and Letters Home, and four poetry collections entitled, Under Basil Leaves (2010), October Afternoon, (2012) Star Apple Blue and Avocado Green (2016) and This Thing that is Not a Thing (2020).
---
'Other Lives in Samuel Pepys Diaries', a creative writing pamphlet anthology launch, Dr Kate Loveman
From Tuesday 25 October (online)
Download the free pamphlet from the Reimaging the Restoration website from 25 October.
---
'Things I wish I'd known before becoming a writer', a talk and Q&A with Professor Kit de Waal
Wednesday 26 October, 2.00pm - 4.00pm, Film Theatre, Attenborough Building Seminar Block Basement
Kit de Waal is the Jean Humphreys Writer-in-Residence in the School of Arts. Her first novel, My Name is Leon, won the Kerry Group Irish Novel of the Year 2017 and was adapted into a major BBC drama in 2022. Her second, The Trick to Time, was longlisted for The Women's Prize. Her memoir, Without Warning Only Sometimes, was recently published. Before beginning to write professionally, Kit worked in criminal and family law and has sat on adoption panels and advised social services on the care of foster children. In 2019, she crowdfunded Common People, an anthology of working-class memoirs by new and established writers. In response to the Covid-19 crisis, she founded the Big Book Weekend, a free virtual literary festival, which had an audience of 24,000.
---
Shrabani Basu, "Arthur Conan Doyle and the Mystery of the Parsee Lawyer" - Centre for Victorian Studies Annual Lecture, in collaboration with The Centre for New Writing and Literary Leicester
Wednesday 16 November, 5.15pm - 6.30pm, Attenborough Building, Lecture Theatre 1
Shrabani Basu is an Indian journalist and historian, and the author of several books including Victoria & Abdul: The True Story of the Queen's Closest Confidant, which was based on the friendship between Queen Victoria and Abdul Karim. It was subsequently adapted into the film Victoria & Abdul.
---
'Imagine if you can: Thoughts on writing dystopian fiction', a talk by Paul Taylor-McCartney
Monday 5 December, 4.00pm - 5.00pm, Bennett Building, Room F75a
Dr Paul Taylor-McCartney, explores some of the underlying principles of dystopian literature and considers how these might impact on a creative writing project in the same genre. Paul recently completed a PhD in Creative Writing with Leicester University. His poetry, short fiction and academic articles have appeared in a range of publications and his first children's novel, Sisters of the Pentacle (Hermitage Press) is due out soon. He lives and works in Cornwall.
Learn more about Dr Paul Taylor-McCartney.
---
Hugo Williams, T.S. Eliot prize-winning poet, talks a life in writing
Tuesday 6 December, 4.00pm - 5.00pm, Ken Edwards Building, Room 322
Hugo Williams is the author of more than a dozen collections of poetry, including West End Final (2009), Collected Poems (2002), Billy's Rain (1999), which won the T.S. Eliot Prize, Selected Poems (1989), and his Eric Gregory Award–winning debut, Symptoms of Loss (1965). A selection of his freelance writing appears in the essay collection Freelancing: Adventures of a Poet (1995). His additional honours include the Queen's Gold Medal for Poetry, the Geoffrey Faber Memorial Prize, and the Cholmondeley Award.
---
Val McDermid: 10th Annual Creative Writing Lecture: Killing people for fun and profit
Tuesday 9 May 2023, 6.15pm, Peter Williams Lecture Theatre (rescheduled event)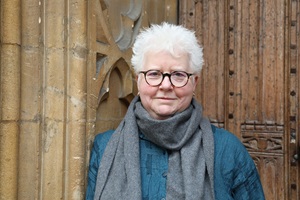 Please pre-book tickets for Val's lecture. Any tickets booked for the event's previous date will remain valid for the rescheduled date.
Dubbed the Queen of Crime, Val McDermid has sold over 15 million books to date and is translated into over 40 languages. She is perhaps best-known for her Wire in the Blood series, featuring clinical psychologist Dr Tony Hill and DCI Carol Jordan, which was adapted for television starring Robson Green. Her most recent novel Out of Bounds was a number one bestseller and her brand new novel Insidious Intent was published in August.
As well as producing a bestselling novel every year, Val is a regular on TV, radio and in print. Her recent projects include two BBC Radio 4 dramas, chairing the Wellcome Book Prize and captaining the 2016 winning University Challenge alumnae team! Her awards, too numerous to list, include the Outstanding Contribution to Crime Fiction Award, the CWA Gold Dagger for best crime novel of the year, the Grand Prix des Romans D'Aventure, the Lambda Literary Foundation Pioneer Award and the LA Times Book of the Year Award, as well as Celebrity Mastermind champion. She is a Fellow of both the Royal Society of Literature and The Royal Society of Edinburgh.
Val will be discussing her writing, her inspirations and the fatal attraction of crime fiction!