Henry Wellcome Building
The Henry Wellcome Building is one of the most modern buildings on campus. Opened in 2006, the £22.5 million building was designed by Fairhurst Design group and is home to two of John Syndey Carter's incredible sculptures 'Atomica' and 'Vortex'.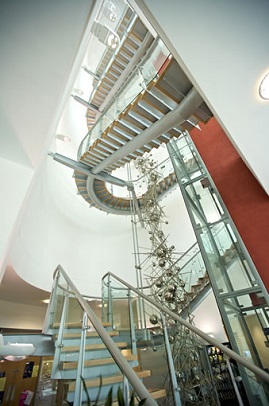 The Department of Molecular and Cell Biology is almost wholly accommodated within the Henry Wellcome Building, with access to outstanding teaching and research facilities.
The Frank and Katherine May 150 seater modern lecture theatre.
17 Research labs serviced by an experienced and highly skilled team of technicians.
A Common room, where students and staff can take a break or meet with peers and supervisors.
A dedicated PhD study room with computer facilities.
A large foyer area for events.
The building has easy access to Wi-Fi, connected via the eduroam service.