Latest Impact Report
I'm delighted to introduce the 2020 Impact Report - 'Bold Vision, Big Ideas'.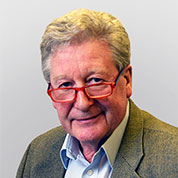 The past year has challenged us all in ways we could not have foreseen and the response and support of our alumni, friends and supporters for the University has been magnificent. Indeed, you may have heard about the University's world-leading research in response to the pandemic and that Leicester has been ranked in the top three universities in the UK for COVID-19 research. You can read more about this pioneering research and the leading investigators in the Report.
The tremendous support of our alumni, friends and donor community makes such a big difference and I would like to take this opportunity to personally thank all those who have so generously supported the University this year, and every year. We are very proud of all our 'Citizens of Change' for their commitment and dedication in helping to see us through this unprecedented time.
It is heartening to read in the Impact Report about the amazing achievements of our talented students, leading researcher teams and academic colleagues, which have been made possible in part by your collective and individual philanthropy. As a University community we continue to work collaboratively together to transform lives through inspirational teaching and world-leading research. I hope that you will enjoy reading about the impact of your support from our special Centenary Scholars to the new Wolfson Deep Space Centre. Much has been achieved and of course there is so much more we can do, with your continuing support, in the years ahead.
Thank you once again for all that you do and I look forward to meeting you at one of our many Centenary events in the year ahead.
Best wishes,

Professor Robin Graham-Brown
BSc MB FRCP FRCPCH
Honorary Professor, College of Life Sciences
Chairman, University of Leicester Philanthropy Advisory Board