Offer Holders
Over 30 full-time academics are waiting in the wings as you launch yourself on your academic journey. We're so pleased that you've chosen us to be part of your adventures!
We are holding Offer Holder Days so that you can get a taste of what it's like to study with us. These will be held in February, March and April.
What will you learn?
Learn more about the modules we offer on the BA English, BA English and American Studies and BA English and History.
Learn more about our amazing academic community
We believe that an education in literature, language and creative writing is a power for good. At Leicester, we'll work with you to engage your creativity from the moment you land in one of our classes. Our degrees cover literature, language and creative writing, with the expertise of staff ranging from Old English to the present day, and with published authors teaching our creative writing modules. This means that you will graduate with a thorough knowledge of English literature and language from its very beginnings through to the globalisation of English in the 21st century.
Writers and thinkers across the ages have always understood the importance of studying English. We will teach you how to look beyond everyday horizons of knowledge, from the earliest beginnings of English to the future of our field.
A Space for Community
Dr Ben Parsons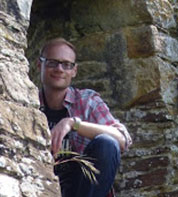 "I never fail to enjoy talking to applicants, for the simple reason that it's always a pleasure to speak with people who share my appetite for books in all their forms; I always learn something new from the experience too. I work mostly on the Middle Ages, trying to dispel stereotypes of a backward, barbaric medieval period one student at a time. That said, I am not immune to the lure of barbarism - I am particularly fond of folktales, comic stories and other types of text that have fallen through the cracks of what we tend to call 'Literature' with a capital L."
Dr Zalfa Feghali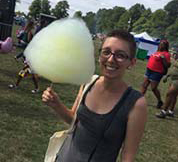 "I love meeting applicants and students eager to explore English in all its complexity. My expertise is in American and Canadian literature and culture, and I'm working on creating a Reading List for World Leaders. What literature do you think world leaders should read? Drop me a line at zf31@le.ac.uk to contribute to my #WorldLeadersReadingList, and be part of some really fascinating research, even before you arrive at Leicester!"
Dr Scott Freer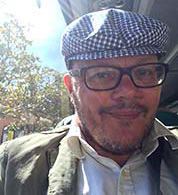 "Talking to prospective English students is one of the highlights of the year, because it is an opportunity to hear about the formative literary tastes of individuals from a diverse range of social and ethnic backgrounds. The experience is a constant reminder that the study of literature is truly life-transforming. My expertise lies in Modernist poetry and the trans-media legacies of 20th century English and American literature. I enjoy examining the conceptual dimensions of reading, especially the felt and spiritual experience. Lately, I have felt inspired by my colleagues to read more poetry of 'radical dissent', and I am currently immersed in The Purgatory of Suicides by Thomas Cooper (a Leicester Chartist poet)."
Dr Claire Wood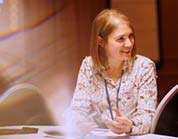 "For me, learning and teaching is all about having great conversations, about thought-provoking topics, with interesting people. As such, it's always a pleasure to speak with applicants at Offer Holder Days. My work focuses on the 19th century and I have a particular love of the sort of long Victorian novels that Henry James designated 'loose, baggy, monsters'. Much of my research centres on Charles Dickens, but I'm also interested in Victorian death comedy and black humour. Recently I've been poring over old copies of Punch in the library's Special Collections and trying to work out what the Victorians did (and didn't) find funny about death."
A Space for Exploring
A Space for your Creativity
We'd love to hear what you think about the readings we've posted on these pages – please do get in touch with us at ArtsAdmissions@leicester.ac.uk and share your thoughts. We might even post them on these pages!
What can you do with an English degree?