Distance learning
Leicester is one of the biggest suppliers of higher education distance learning courses in the UK.
The increasing professionalisation of the security industry has meant that many now see a postgraduate degree as being essential to career progression. Our distance learning courses will enable you to develop your academic knowledge of crime, risk and managing security and strengthen your professional skills and abilities.
We offer the following distance learning course:
Security and Risk Management MSc/PGDip/PGCert
2 years, by distance learning
This is for you if you have, or aspire to have, responsibility for crime prevention, risk and security within your organisation.
Meet the Distance Learning team
All of our Distance Learning team have years of experience in tutoring distance learners.
Our team are: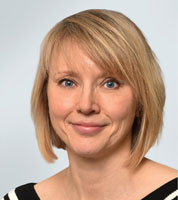 Tracey Dodman – Director of Distance Learning
---
Jason Johnstone – Course Convener
---
Our security and risk ambassadors
The course currently has four security and risk ambassadors. These experts advise on programme development and occasionally provide support on programme delivery at study schools.
Our current ambassadors are:
Professor Adrian Beck - Independent Consultant and Emeritus Professor in Criminology.
Clive Wood - Chair, International Police Association.
David Cresswell - Programme Leader, International Security Management Institute.
Colin Peacock - Honorary Visiting Fellow and Group Strategy Coordinator for the ECR Community Shrinkage and On-Shelf Availability Group.
Security Institute membership is included for all of our students
All of our students also get free membership of the Security Institute. The Institute is the UK's largest membership body for security professionals and there are several benefits of membership including: access to the Security Institute Mentoring Programme, the opportunity to participate in the Security Institute CPD Scheme and access to the Research Directorate Knowledge Centre.
Our students regularly win industry awards
We also give our students the chance to showcase their work to the security industry. Our very best student dissertations are submitted for the prestigious security industry Imbert Prize and the Wilf Knight Award. These awards are presented (respectively) by the Association of Security Consultants and The Security Institute to the authors of dissertations judged by their panel of experts to be of the highest academic quality. Students from the School of Criminology were awarded dissertation prizes at annual security awards events held in London's West End in 2007, 2011, 2012 and 2013.
Distance learning makes higher education and further study accessible to students from a wide range of backgrounds, locations, and circumstances. Our team in the School of Criminology are experts at delivering distance learning and take great pride in supporting our students to achieve their ambitions, and successfully balance their studies alongside professional and personal commitments.
The support from the School could not be faulted. Working full time and having a family led to inevitable clashes of time. The staff were excellent in helping with advice on programming my studies.