Values of the project
We have a common, guiding principle overarching the work of EMPOWER that speaks to the importance of our work having an impact and effecting change in Violence Against Women and Girls.
How we work together under the umbrella of EMPOWER will be underpinned by key values, guiding how we collaborate and orient ourselves to the work: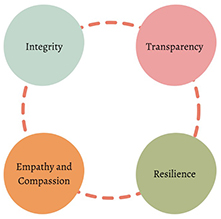 Integrity – Recognising our commitment to VAWG and EMPOWER work, but setting that in the context of everyday working priorities. Understanding that commitment can take different forms across the work of EMPOWER i.e., attendance at workshop, providing data, enabling access to survivors' voices, and that these all contribute to the success of the partnership.
Transparency – Working honestly and openly in achieving our outcomes and being clear in communicating the evidence-base and what our work finds.
Empathy and Compassion – Recognising the importance of being trauma-informed and victim/survivor-centred in all aspects of the work of EMPOWER. Being sensitive to the importance of language in communication irrespective of who is being referred to.
Resilience – Working towards long-term sustainability of our work in effecting change in VAWG.