2020 news archive
A selection of the most exciting news from the School of Chemistry in 2020 are highlighted below. For all our latest developments, and regular updates on our activities, follow us on Twitter (@Leicesterchem), Facebook (Leicester Chemistry), and Instagram (@leicesterchem)!
One is the loneliest number?
Shengfu Yang and his co-workers in the Spectroscopy and Atmospheric Chemistry Group discovered single gold atoms within Van der Waals complexes can serve as catalysts. This was observed in ionization-induced chemistry of 1,6-hexanediol-Au and 1,8-octanediol-Au complexes formed in superfluid helium nanodroplets, where the addition of gold atom(s) made C2H4+ the sole prominent product in dissociative reactions. Quantum calculations revealed that the gold atom significantly weakens the C-O bonds while simultaneously strengthening all of the C-C bonds, making the C-O bonds the weakest bonds in the molecules. This work suggests a new strategy in catalysis and may aid future rational catalyst design. The finding was published in Chemical Science, and highlighted by Chemistry World.
Apart, but celebrating together
Although the COVID-19 crisis prevented any of the normal summer graduation celebrations taking place this year, we consider festivities postponed rather than cancelled! We intend to to invite all graduating students from 2020 to a formal graduation ceremony in the future.
We didn't want our students achievements to go unnoticed, however, and so we held an online graduation celebration on 14th July. This session included lots of video clips from past and present students and other members and friends of the University, including the President and Vice Chancellor, Prof. Nishan Canagarajah. The session itself was a live event compered by the Head of School, and an edited version is available on YouTube.
Congratulations to all of our graduates in 2020 and best wishes for the future!
Maple League appointment for Leicester alumnus
Professor Andy Hakin has recently been appointed as the President and Vice-Chancellor of St Francis Xavier University in Canada. StFX is located in Antigonish in Nova Scotia on Canada's east coast, and is a member of the Maple League universities in Eastern Canada.
Andy did his first degree in Chemistry at the University of Leicester and remained here to do a PhD under the supervision of Mike Blandamer, graduating in 1987. He then did postdoctoral work at the University of Alberta and has worked in Canada ever since. Prior to arriving at StFX he was a Professor of Chemistry at the University of Lethbridge and served as their Vice President for Academic Affairs and Provost for the 13 years. His move to StFX started on 1st July 2020.
Andy's wife, Linda, is also a graduate of the University of Leicester and holds a BA in Economics and Economic History. We wish Andy and Linda all the best and hope to see them in Leicester on a future visit.
Looking good, naturally
Alvaro Garcia Cruz, a Research Associate in Chemistry, and Katrin Scionti (Immunology) have co-founded a skincare company with the support of the Leicester Innovation Hub.
Alvaro and Katrin used the lock-down period as an opportunity to realise their dream of establishing a natural cosmetic company, Gamanity Cosmetics. The past few months have seen the pair register the company and have their products certified, while also building an international following on social media. Gamanity Cosmetics products are environmentally friendly as they are made from organic and natural ingredients, and the packaging is fully recyclable and plastic-free. Some of the company's best-selling products are their Natural Deodorant and Lip Balm.
The company has also begun the process of establishing a worldwide community with the aim of keeping people informed about healthy and safe skincare products and practice, as well as providing a platform to exchange ideas and promote important issues. Gamanity is dedicated to actively supporting women's empowerment. The company plan to organise monthly webinars featuring talks by inspirational women and have future plans to support charities dedicated to women's employment.
Alvaro and Katrin are very proud of the progress they have made and are excited to develop their company further. They would like to say a huge thank you to their mentors at the Leicester Innovation Hub for their help and support.
Fishing for inspiration
A team of eight undergraduate students (Georgia Battersby, Corey Beeley, Danielle Baguley, Harrison Barker, Harvey Broad, Niamh Carey, Edward Chambers and Daria Chodaczek) along with Dylan Williams and Richard Blackburn (Leicester Chemical Learning Enhancement and Pedagogy) are celebrating publication in the Journal of Chemical Education (Go Fischer: An Introductory Organic Chemistry Card Game).
The paper details a Go-Fish inspired card game developed by six of the co-authors (Danielle, Harrison, Harvey, Niamh, Edward and Daria) during their first year at University (back in 2017). The game was designed to help students practice applying the rules of organic nomenclature, to recognize key functional groups, and to familiarise themselves with simple examples of reactivity of molecules containing these functional groups. The effectiveness of the game as a learning resource was evaluated by Georgia and Corey as part of their final year dissertation projects (under the supervision of Dylan and Richard). Publication in the prestigious Journal of Chemical Education means the game is now available for students and educators around the world to use.
University Challenge
School of Chemistry graduate Tom Purnell captained the University of Leicester team in a first-round match against the University of Durham on the latest series of University Challenge.
Tom graduated with an MChem in Chemistry in 2019 and has gone on to study for a PGCE with Science. The match was a closely run contest, with the teams pitted against each other on subjects varying from political history and arithmetic to romantic literature and flags of the world. While the final score saw Leicester beaten by Durham, 125 – 180, the team showed an excellent breadth of knowledge and sportsmanship. Well done!
Have your cake and eat it
PhD student Josh Smalley has taken part in 'Bake Your Research', a fun challenge in which researchers are set the tasty task of representing their work in cake form.
As part of the Hodgkinson group in the Leicester Institute of Structural and Chemical Biology, Josh's research is focused on the synthesis and investigation of Proteolysis Targeting Chimeras (PROTACs); heterobifunctional molecules that function to catalytically degrade a protein of interest (POI) via the ubiquitin proteasome system. The POI in question for Josh's research are the Class I histone deacetylase (HDAC) enzymes. The PROTAC general structure is a POI inhibitor connected via a linker to an E3 ligase ligand. In binding to its respective targets the PROTAC recruits the POI to an E3 ligase, forming a ternary complex. Subsequent polyubiquitination occurs through successive transfers of ubiquitin (a 76 amino acid protein) to the POI, which then triggers a response by the proteasome to selectively degrade the POI and subsequently knockdown POI levels.
Josh has done a great job of creating a delicious-looking representation of his research! Josh has also recently had a paper published in collaboration with the Schwabe and Cowley Groups, entitled PROTAC-mediated degradation of class I histone deacetylase enzymes in corepressor complexes.
A scholar of distinction
Richard Blackburn has been awarded a University Distinguished Teaching Fellowship. The achievement was awarded 'in recognition of the commitment Richard has to continuing innovation both in his own teaching and in fostering it in others: locally through mentoring, regionally through the Royal Society of Chemistry and internationally through publications and conferences'. Richard is a highly valued member of the School of Chemistry and rated consistently high by his students. He adopts a variety of teaching methods to ensure the best possible outcomes for a diverse student body.' Many congratulations to Richard on this impressive accomplishment!
STOP PRESS: Richard has also just been promoted to Associate Professor, so it's double congratulations!
Undergraduate journal success
Catherine Feld, a final year MChem student in the Suntharalingam group, has published her MChem project results on the anti-breast cancer stem cell properties of nickel complexes containing non-steroidal anti-inflammatory drugs in Chemistry - A European Journal, with help from Dr Alice Johnson and Dr Zhiyin Xiao.
This is an outstanding feat for an undergraduate student and a testament to Catherine's hard work and tenacity throughout the year. Congratulations!
Award-winning investigator!
Rama Suntharalingam (Associate Professor in Inorganic Chemistry) was awarded the Royal Society of Chemistry Inorganic Biochemistry Discussion Group Investigator Award for 2020, for "sustained, high quality contributions in the area of metallo-drug design and development." This award recognises excellence in inorganic biochemistry for a researcher who is 10 years post-PhD and employed in any UK institution.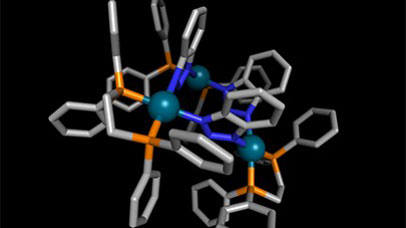 Since joining the University of Leicester last year, the Suntharalingam group have published four independent publications in peer-reviewed journals. The group reported the first investigation into metal-based anti-osteosarcoma stem cell agents in Chemical Communications, and the first multi-nuclear palladium(II) complex to potently kill breast cancer stem cells in Dalton Transactions. The group also reported on the anti-breast cancer stem cell properties of nickel complexes in ChemBioChem and Chemistry – A European Journal.
Leicester students help find tools to cure rare disease
Ten School of Chemistry BSc students (Hasan Abosoglu, Alfeshani Cassim, Edmund Chu, Simon Doughty, Shaun-Jones Eganda, Hikari Fuchigami, Aleah Hussein, Meedhu Olickal, Neelay Parmar and Akhil Sebastian) have contributed to the CureCN project, funded by the EU's Horizon2020 research and innovation program (award number: 755225). The students were supervised by Sergey Piletsky, Kal Karim, Elena Piletska and Fabiana Grillo. The main objective of the project was to produce a tool for improving the efficiency of gene therapy used in the treatment of Crigler-Najjar (CN) syndrome, a genetic disorder characterised by an inability or diminished ability to convert and clear bilirubin from the body.
The students developed synthetic binders for adeno-associated virus (AAV) - neutralising antibodies. These materials are in high demand as a solution to one of the biggest problems associated with the practical application of gene therapy in genetic disorders – the decreasing efficiency of the treatment over time because of the patient's immune response. A combinatorial library of fluorescent polymeric nanoparticles was prepared and screened against six peptide epitopes of the variable regions of the AAV - neutralising antibodies, which were identified by the Leicester Biotechnology Group, a partner in the EU project. Students provided a thorough investigation of the components of the monomeric mixture that had a positive or negative impact on polymer binding to the peptides with a different composition and properties. This study produced valuable information for experts who use material engineering to solve practical problems related to nanotechnology and drug delivery.
Kal in the community
Kal Karim has raised over £12,000 for the Cambridge City Foodbank during the Covid-19 pandemic.
The crisis means that foodbanks nationwide face a time of uncertainty due to isolation guidelines and depleting resources. When he initially set up the online fundraiser in March, Kal had a target of raising £2,000 to help his local foodbank remain open and continue aiding those in need. Since launching, he has smashed his original target and, thanks to the generosity of the public, the target has been increased to £15,000. Kal has since appeared on local radio and television to raise support for his campaign.
International reach of Leicester's chemical education research
Richard Blackburn was invited to give a seminar at the Hong Kong University of Science and Technology (HKUST) by assistant professor of chemistry education, Jason Chan.
His seminar, jointly hosted between chemistry and the university's centre for education, was entitled "digital & graphical teaching innovations for laboratory instruction and science communication". In this seminar Richard highlighted the broad range of resources developed at Leicester to better prepare students for laboratories, his problem solving activities to teach synthesis and retrosynthesis and his novel ways to assess science communication.
European funding success
Karl Ryder and the Materials and Interfaces Group have been awarded a European Commission H2020 grant for a new two-year project titled 'A Marketable Polymer based Al-S battery' (AMAPOLA). The project will expand upon the research conducted in the 'Sulfur-Aluminium Battery with Advanced Polymeric Gel Electrolytes' (SALBAGE) project. AMAPLOA will focus on using the research results obtained by SALBAGE to create genuine technological innovations in the Al-S battery market.
Congratulations to all involved!