2021 news archive
A selection of the most exciting news from the School of Chemistry in 2021 are highlighted below. For all our latest developments, and regular updates on our activities, follow us on Twitter (@Leicesterchem), Facebook (Leicester Chemistry), and Instagram (@leicesterchem)!
Fabs Ortu part of team awarded RSC Horizon prize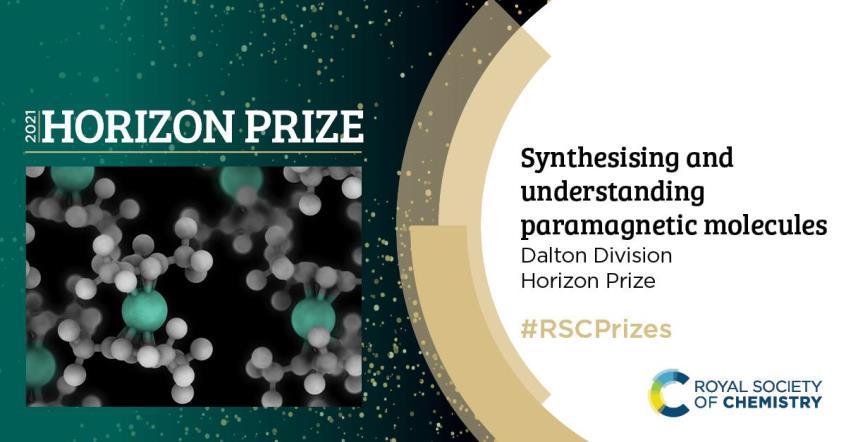 Dr Fabrizio Ortu is part of the Molecular Magnetism Team recognised with the 2021 RSC Dalton Division Horizon Prize. The Prize was awarded for carrying out cutting edge research in the field of molecular magnetism, as part of "A multinational team of synthetic, spectroscopic, magnetism, and computational researchers all working to a unified goal: generating and understanding ground-breaking paramagnetic molecules with novel potential applications." Fabs contributed to this Award by studying Electron Paramagnetic Resonance spectroscopy applied to actinide chemistry (reported in Nature Chemistry), and high temperature single molecule magnets (reported in Nature).
Leicester Chemistry part of ERA-2 initiative
The School of Chemistry is taking part in a major new £250M Government initiative seeking to build the next generation of energy technologies in the Midlands. The Energy Research Accelerator (ERA) was established in 2016 as the UK's first cross-discipline energy research hub, bringing together over 1,400 researchers from across the Midlands with the aim of supporting the low-carbon transformation of the regions' energy infrastructure, providing technical input to energy policy developments, and fostering knowledge exchange between partners within the sector. The first phase which ran from 2016 - 2020 focused on three themes; Thermal Energy, Geo-Energy, and Internal Storage. During this time the initiative has had high impact success, contributing to the development of key large-scale demonstrator facilities, supporting small and medium-sized enterprises through the delivery of ERDF projects worth over £50M, and implementing skills development programmes for midlands-based PhD students and Postdoctoral Researchers. Following the great success of the initial phase, ERA is now launching its second 5 year mission in which the University of Leicester's School of Chemistry will continue to develop alternative energy sources by working on advancing the safety and performance of cell materials and chemistries. This includes the development of novel electrolyte technologies to implement the aluminium rechargeable cell and also developing novel methods for recycling and recovery of critical raw materials from spent cells.
Collaboration on a knife edge for Leicester chemist
Professor Rob Hillman has collaborated on a significant research paper into round-tipped knife blades, which has the high-impact potential to aid the reduction of knife crime and prevention of serious injuries.
The project was led by a University of Leicester Distance Learning graduate, Leisa Nichols-Drew (De Montfort), alongside colleagues Dr Rachel Armitage and Dr Kevin Farrugia, in collaboration with Dr Kelly Sheridan (Northumbria).
For the paper, entitled On a knife edge: A preliminary investigation of clothing damage using round-tipped knives, the team conducted 300 tests using a single downward stabbing motion on four garments, all made from different materials. The knives used for the experiment included: a blade with an 'r-shaped' tip; a blade with a rounded tip; a blade with an asymmetric tapered tip known as a 'sheepsfoot'; a traditional pointed-tip blade; and a serrated-edged blade with pointed tip. The results revealed significant differences between the stab hole size and shape, depending on the design of the knife, with all but the rounded tip causing some form of damage. The rounded blade did not pierce any of the four fabrics whatsoever, leading researchers to call for conventional pointed-tip knives to be replaced with rounded-tips to minimise the risk of kitchen knives resulting in injuries. The research has the potential to assist in the future design of kitchen blades, as well as being of great interest to crime-reduction units, and has already garnered media attention with the findings being reported by the BBC.
New Horizons for metalloenzyme research at Leicester
Philip Ash has been awarded funding through the highly-competitive New Horizons program piloted by the Engineering and Physical Sciences Research Council (EPSRC). The project aims to develop novel ways of triggering fast reactivity in enzyme systems that will ultimately broaden the scope of serial crystallography methods at synchrotron and X-ray free electron laser light sources.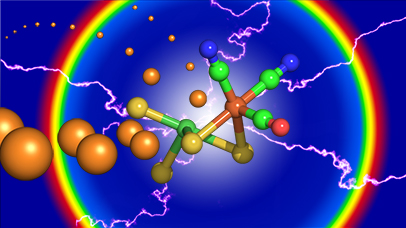 Advisory Panel membership for Leicester chemist
Philip Ash has been invited to serve as a member of the Life Sciences and Soft Materials Advisory Panel of the Science and Technology Facilities Council (STFC). The purpose of the Advisory Panel is to provide a link between the user communities, including potential future users, of STFC facilities such as Diamond Light Source, ISIS Neutron and Muon Source, the Central Laser Facility, and international facilities such as the Institut Laue Langevin and European Synchrotron Radiation Facility in Grenoble, where the STFC provides access for UK-based researchers.
Editor's choice for Jenny Hartley
Bumper grant success to start the year!
Dr Rama Suntharalingam and Professor Andy Abbott successfully obtained a £176k Knowledge Transfer Partnership with a Leicester-based company Food Attractions aimed at investigating moisture transport in foods and hence improving product quality and shelf life.
The Materials Group (Professor Andy Abbott, Professor Karl Ryder, Professor Gawen Jenkin and Dr Dan Smith) has been successful in obtaining a £958k grant from the UKRI to research methods of creating a Circular Economy in Technology Metals. The project with Exeter, Manchester and Birmingham Universities, together with the British Geological Survey, aims to develop efficient extraction and recycling processes.