Pre-2020 archive
A selection of the most exciting news from the School of Chemistry from 2019 and earlier are highlighted below. For all our latest developments, and regular updates on our activities, follow us on Twitter (@Leicesterchem), Facebook (Leicester Chemistry), and Instagram (@leicesterchem)!
Sharing teaching excellence and innovation in Chemistry
The University's annual Discovering Teaching Excellence conference took place June 12th 2019. The department was very well represented at the conference with students and staff giving four talks, one poster, and hosting a table at the "World Café" event and two award presentations.
Two students were awarded Teaching Partnership Awards:
Leanne Blount (PhD) for work on innovative ways of supporting student learning in the teaching lab environment. Leanne is now working with Richard Blackburn on getting this work published.
Nikita Lack (BSc Chem w/Forensic Science) for working with Richard Blackburn on a project to produce a series of videos to help students build models as part of a flipped lecturing approach. Nikita has also made a significant contribution to the "Science in a Box" outreach project.
The following talks were given:
Natalie Rose (BSc Chem w/Forensic Science) presented on her work with Harry Howells (BSc Pharm Chem), Richard Blackburn and Barbara to develop and evaluate Lab360: a virtual tour of the chemistry teaching lab.
Leanne Blount (PhD) presented on her innovative approach to supporting student learning in the teaching lab using picture boards.
Dylan Williams presented on a student partnership with Mariam Mahomed (BSc Pharm Chem), Lakshmi Sisodia (BSc Pharm Chem) and Barbara on the development and evaluation of a lab-based escape room for use as part of our outreach programme.
Richard Blackburn presented on his work to develop an innovative infographic-based assessment for first years that allows students to learn more about research in the department. The work presented by Richard has been published in the Journal of Chemical Education.
A student-staff partnership team consisting of George Tebbutt (MChem), Charlotte Dickenson (MChem), Natalie Rose (BSc Chem w/Forensic Science), Barbara Villa Marcos and Richard Blackburn presented a poster on current work being done in the department as part of the Digital Innovation Partnership initiatives.
Finally, Dylan Williams hosted a table at the "World Café" to discuss how to support student engagement through innovative teaching and learning approaches. This event also focused on advising staff how to obtain National Teaching Fellow status.
Latest Guardian league tables
The chemistry department has been ranked 13th out of 55 UK chemistry departments in the Guardian University League Tables 2020. The department scored 3rd and 7th for career prospects and Nation Student Survey feedback, respectively.
Needless to say we are delighted that continued efforts in enhancing the courses, innovating our teaching, embedding careers events, and supporting students throughout their study has been reflected in such a positive outcome from this key league table.
Fluorine future is in good hands
Five members of the Fluorine Research Group enjoyed attending the 18th RSC Fluorine Subject Group Postgraduate Meeting at the University of Southampton in April 2019. Martyna Urbonaite gave an excellent oral presentation on "Metal-free fluorocyclisations with the hypervalent fluoroiodane reagent". There were also two poster presentations; one from Yixin (Alice) Xie, and a joint poster presented by Harsimran Minhas and William Riley. Congratulations to Simran and Will for winning the prize for the best poster presentation!
Reduce, reuse, recycle to electrify transport
Dana Thompson recently started her PhD in the Materials Centre at the University of Leicester as part of the Faraday Institution project, ReLiB (Recycling of Lithium Ion Batteries). ReLiB is a very exciting project involving over 50 researchers from 8 institutions across the UK. The overall goal of the project is to develop a lithium ion battery recycling industry in the UK. Her role within the project is to investigate the properties of the battery materials and to develop a catalytic method to split the materials into their individual components.
In November she attended her first conference in Daventry where she presented work on the mechanical and optical characterisation of unwetted lithium ion electrodes. She also spent an afternoon at Williams Advanced Engineering looking at some of the diverse applications of lithium ion batteries and we got an insight into the power units of Formula E vehicles.
Dana has also visited Newcastle University with the Faraday PhD Cluster for a 5-day course on battery safety, learning how to isolate a Nissan Leaf. The group also visited Hyperdrive, a battery supplier for electric vehicles and learnt about charging protocols. On our final day we went around the production line at the Nissan factory.
Fifty Shades of Grey for materials researcher
Artwork by PhD student Stylianos Spathariotis, 'Fifty Shades of Grey', has been selected for display in the annual open exhibition at New Walk Museum. The piece combines the science of metal recovery with a state-of-the-nation political message. Using the cementation process (the precipitation of a noble metal when it comes into contact with a less noble one), Stylianos dissolved a variety of metal salts in an ionic liquid before brushing them onto galvanised steel. The reactions resulted in a patchwork of fifty grey deposits forming the figure of the Union Jack.
Stylianos intends for the piece to highlight the multicultural and multinational nature of Great Britain, while also promoting social equality via the uniform 'grey' quality afforded to all metals, both precious and abundant, regardless of their perceived economic value.
Detoxifying Cadmium
A project within the Centre for Materials Research, 'Cadmium Replacement Using Pulse Plating And Ionic Liquids' (CRUPPAIL), has been shortlisted for an Environmental achievement award at The Surface Engineering & Heat Treatment Awards (SEA).
The CRUPPAIL project intends to produce a more environmentally friendly replacement for cadmium plating by developing a new chemical process which can plate zinc-nickel (ZnNi) alloys. Cadmium is a coating for metals that gives excellent anti-corrosion and lubrication properties but the feedstock material is very toxic. Use of Cd is still allowed in the EU but only for some strategic aerospace and military applications. The global economy is searching for an alternative to cadmium and this has been achieved through the use of novel ionic liquid non-aqueous chemistry and deep eutectic solvents, allowing creation of safer coatings while maintaining the technical properties of cadmium.
The CRUPPAIL project is a small consortium including a Birmingham-based commercial electroplating company, experts in waste minimisation, treatment and surface engineering and is funded by Innovate UK. The role of the University of Leicester is to develop and produce the novel electrolyte. This task is being led by Chunhong Lei and Karl Ryder in the Department of Chemistry.
The SEA Awards bring together the entire surface and heat treatment industry, including customers, suppliers and members of the organization. The awards ceremony will be held in Manchester in October.
New atomic-resolution imaging capability for Leicester
Installation and commissioning of a new Atomic Force Microscope (AFM) took place in late August in the Centre for Materials Research. This is an exciting development, adding even more cutting-edge technology to the comprehensive suite of surface characterisation facilities already assembled in the Centre and the Advanced Microscopy Facility. The new AFM has the capability to create 3D images of a surface at the nanometre scale. It is also capable of imaging the positions of arrays of individual atoms, giving scientific insights into the structure of materials that could only have been dreamt of before!
The microscope, costing nearly a quarter of a million pounds, arrived from the USA packed in huge wooden crates that, in a heart-stopping moment, almost literally fell off the back of the lorry! The manufacturer, Bruker, installed the instrument and initial training was completed just after the August bank holiday. The new AFM was funded from a Faraday Institution grant awarded to Andy Abbott and Karl Ryder, focussing on the recycling of battery waste and the recovery of strategic metals such as nickel, cobalt, cooper, aluminium, and other reusable components. The microscope will be used to study the surfaces of battery-related materials as they are dissolved away and deposited in electrochemical processes (charging and discharging). This will help us to understand and optimise how we treat battery materials and minimise waste, as well as provide insights into new battery cell chemistries. In addition, the new microscope will be used to support range of materials-related projects funded by the EU Horizon 2020 (project SAlBaGE), Innovate UK (projects CRUPPAIL, CHROMFREE), the Home Office and a range of industry partners and commercial contractors. The AFM will also support work on forensic materials (Rob Hillman), minerals processing and recovery in collaboration with colleagues in the School of Geography, Geology and the Environment as well as energy related research currently being developed by the University of Leicester in the College of Science and Engineering in partnership with Midlands Universities and energy stake holders under the major funding initiative of the Energy Research Accelerator (ERA).
Fluorine research highlighted by the BBC
Professor Andrea Sella from University College London has presented a series on Radio 4 called "In Their Element". In the episode on "Fluorine: Chemistry's Tiger", Dr Alison Stuart, Chair of the RSC Fluorine Subject Group, provided commentary on the role of fluorine in modern day pharmaceuticals.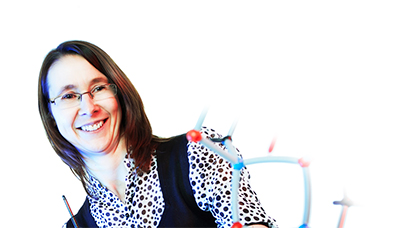 SCI award for Leicester undergraduate
Congratulations to Joshua Smalley who collected the runner-up prize for best oral presentation in the 2018 SCI undergraduate symposium in Liverpool. The event, aimed at sharing undergraduate research, invites final year undergraduate students to give a short talk on their research project. This year's event hosted 16 speakers from 10 different universities. Josh presented his project, which he undertook with James Hodgkinson, on the 'Design and Synthesis of PROTACs for targeted degradation of epigenetic regulators'. Josh will start a Ph.D with James this September.
Chemical education pioneers visit USA
Richard Blackburn and Dylan Williams recently attended the he 25th Biennial Conference on Chemical Education (BCCE) hosted by the University of Notre Dame, South Bend, IL. This conference is a national meeting sponsored by the Division of Chemical Education of the American Chemical Society, aimed at promoting research, practice, and general innovation in the teaching of chemistry.
Whilst at the conference both lecturers made two presentations each, showcasing their research and innovations in problem based learning, student skills perceptions, pre-laboratory simulations, and alternative ways to teach organic chemistry (titles below). Additionally, both also participated in a number of networking and internationalisation events and workshops.
Talk Titles:
Open Ended team-based induction task to support the development of project skills.
Measuring the expectations of new chemistry students.
Impact of pre-laboratory simulations on student attitudes of a first year laboratory course.
Effectiveness of flipped problem classes and discussion to assist case-study teaching of synthesis.
More about pedagogic research and education innovation at Leicester can be found on the Chemical Learning Enhancement and Pedagogy Group webpages.
Gum control
Shengfu Yang appeared on the BBC OneShow in July, talking about the chemistry and the recycling of chewing gums.
His segment was filmed in the first floor Chemistry Lab, where Shengfu explained the polymeric nature of chewing gums, why they are so sticky and how difficult it is to breakdown the gum waste. He also performed interesting experiments which compared the degradation of apple and chewed gum in gastric acid, and how these can be destroyed by burning. Although chewing gum waste can be burnt, this is not an ideal solution for its removal as this method clearly has both environmental and energy indications.
Our streets and pavements are now suffering from a monstrous plague of spat-out chewing gums, and the UK spends ~£60 million per year on gum removal. Chewing gum wastes have now raised a great concern. The major component making the "chew" of the gums is plastics, which is flexible and stretchable, but hard to break down into small molecules. Once they are spat on the street and stepped on, they become little disks that stick strongly with the surfaces, making removal difficult. At the molecular level, this is due to the hydrophobic nature of plastics and the road surfaces, which defines the strong attractive interaction between them.
Parasites under the spotlight: applications of vibrational spectroscopy to malaria research
Corey Evans and Andrew Hudson from the Department of Chemistry have co-authored a paper together with long standing collaborators from Monash University, an institution in Victoria, Australia.
The article published in Chemical Reviews, a journal published by the American Chemical Society, contains insights from research on the application of vibrational spectroscopic techniques for monitoring and detecting malarial infection with high sensitivity and specificity. New technologies to diagnose malaria are urgently needed in the developing world where the disease continues to pose a huge burden on society. Although the article is primarily a review, it also contains some new data recorded during a recent visit made by Andrew Hudson to Monash University (supported by a Royal Society International Exchanges grant), which was analysed using multivariate algorithms back in Leicester by both Andrew Hudson and Corey Evans.
Leicester chemist wins prestigious Royal Society of Chemistry Award
Dr Dylan Williams, of our Department of Chemistry, is the Royal Society of Chemistry Higher Education Teaching Award winner for 2018.
Dr Williams has worked on new ways of teaching chemistry at university since 2007. His approach is based on learning experiences that allow students to work in teams on open-ended problems, developing their chemical and workplace skills.
VIP article for Leicester chemist
Recently published research by Richard Hopkinson has been selected as a VIP article in ChemBioChem. The article describes biochemical studies on an oxygen-dependent formaldehyde-producing demethylase, KDM4A, which contains a key lysine residue in its active site. Combined MS and NMR analyses suggest this lysine residue (lysine-241) is essential for ensuring efficient demethylation activity, but does not affect KDM4A's reaction with oxygen. The work implies that small molecule binders to lysine-241 in KDM4A may induce catalytic inactivation.
Young Investigator Award for Richard Hopkinson
Richard Hopkinson
has been awarded the 2018 Inorganic Biochemistry Discussion Group
Young Investigator Award
. The biennial award is designed to highlight and promote the next generation of outstanding UK-based researchers working in the inorganic biochemistry field. Richard will receive the award at the 14th European Biological Inorganic Chemistry Conference (EuroBIC14) in August at the Medical School, University of Birmingham. He will also give a prize lecture at the conference.