Classics outreach
Classics is an interdisciplinary subject which includes the study of the literature, languages, history and material culture of the ancient world, and their impact on later periods and cultures.
Our knowledge of the ancient world is based on texts and objects, and is constantly changing as different interpretations are offered. Study of the classical world encourages pupils to think critically about the value of different sources of information, to form arguments based on different types of evidence, and to combine theories and methods from different subjects as they encounter a new civilisation.
Through our workshops, subject talks and teaching resources, we can help you to bring Classics to life in the classroom!
Leicester Classics Hub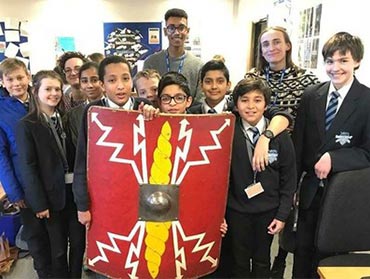 In partnership with Classics for All, we promote the study of the classical world. In particular, our students and staff are working to support the introduction of classical subjects in state schools where there is no current provision, as well as to provide a wide range of enrichment opportunities based on our cutting-edge research in classical archaeology and ancient history. We can provide:
Support and training for the introduction of Classical Civilisation, Ancient History, Latin and Greek within and alongside the curriculum (KS2-5)
Support and CPD for current teachers of Classical Civilisation, Ancient History, Latin and Greek (KS2-5)
Resources for use in the classroom
Campus-based and classroom sessions to complement a wide range of subjects in the national curriculum
Taster sessions (KS2-5)
Academic consultancy
School visits to give student-focused talks on our research
If you would like further information about the Leicester Classics Hub, or would like to arrange a school visit, please contact us at acc-cori@le.ac.uk.
Subject talks
Our academics enjoy visiting schools to give talks to students on various aspects of their research, and in particular on topics that relate to the current curriculum in Classical Civilisation, Ancient History, Latin and Greek. Such topics include:
Homer, the Iliad and the Trojan War
Knossos, the Minotaur and myth
Monuments of Athens
Greeks and barbarians
Women in the ancient Greek world
Disease and death in ancient Greece
Greek myth and religion
Greek bodies, body image and sculpture
The origins of democracy
Politics in the Late Roman Republic
Death in the Roman world
Roman religion
The Roman household - slaves, women, families
The city of Rome
Workshops
We can also visit schools to run hands-on workshops with groups of students, either as part of scheduled classes or in after-school clubs. The aim of these workshops is to stimulate excitement about and engagement with antiquity, rather than focusing specifically on curriculum topics. Workshop themes can include:
Codebreaking, inscriptions and writing
Artefact to Art: creativity from objects
Roman death and burial
What makes a Roman solider?
Going to school in ancient Sparta
The origins of the Minotaur
Feedback
"It's been so wonderful to give our children access to what has previously been seen as an independent school curriculum through Classics Clubs. The children deserve to have access to this culturally rich material and it is a joy to share it with them. The children literally groaned when it was time to send them home after their first club session!"