Community archaeology
Fieldschools and projects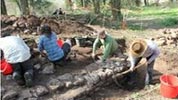 Our students and our outreach team are involved in a number of projects and fieldschools around the country, including:
Ardnamurchan Transitions Project
The Ardnamurchan Transitions Project is a long-running research and community project exploring the archaeology of the Ardnamurchan Peninsula, Western Scotland. The project is a collaborative effort between archaeologists from the universities of Manchester and Leicester, CFA-Archaeology and Archaeology Scotland.
Operation Nightingale
Operation Nightingale is an initiative that was developed to utilise both the technical and social aspects of field archaeology to help in the recovery and skill development of soldiers injured in the conflict in Afghanistan.
There is a close correlation between the skills required by the modern soldier and those of the professional archaeologist. These skills include surveying, geophysics (for ordnance recovery or revealing cultural heritage sites), scrutiny of the ground (for improvised explosive devices or artefacts), site and team management, mapping, navigation and the physical ability to cope with hard manual work in often inclement weather conditions.
Community groups and useful links
Young Archaeologists' Club
Leicestershire has a thriving Young Archaeologists' Club, established in 1995. It meets monthly, mostly in Leicester, with occasional meetings around the county and summer field trips and activities. The club is run by volunteers (staff and graduates from the department).
Leicestershire Fieldworkers
Leicestershire Fieldworkers (formerly Leicestershire Museums Archaeological Fieldwork Group) has undertaken, through its local groups, an award-winning programme of archaeological fieldwork throughout Leicestershire, Leicester and Rutland since 1976.
Portable Antiquities Scheme
The Portable Antiquities Scheme is a DCMS-funded project to encourage the voluntary recording of archaeological objects found by members of the public in England and Wales. Every year many thousands of objects are discovered, many of these by metal-detector users, but also by people whilst out walking, gardening or going about their daily work.
Contact
Wendy Scott
Finds Liason Officer
+44 (0)116 305 8325
wendy.scott@leics.gov.uk
Leicestershire Archaeological and Historical Society
The Leicestershire Archaeological and Historical Society was founded in 1855 and over the years has changed its name slightly, but its aims have virtually remained the same: 'to promote the study of history, archaeology, antiquities and architecture of the county'. Membership stands at around 400 and in addition some 100 institutions around the world receive their annual publication. Their main activities centre around the lecture programme, publications, historic buildings and research.