Rosemary
Native to the Mediterranean region, rosemary is a woody perennial herb with a lemon-pine aroma and distinctive sharp flavour.
Beauty
Acne-Fighting Rosemary Toner
Rosemary has a multitude of benefits outside the realms of gastronomy and gardening, specifically its beauty DIY potential. Primarily beneficial for those with oily, acne-prone skin, rosemary oil and extract both have powerful astringent, anti-fungal, and disinfecting properties. The plant is also rich in biologically active compounds and antioxidants such as calcium, vitamin B6, iron, cineole, and verbenon that effectively tone and tighten loose, sagging skin.
Ingredients
3/4 cup water
1 fresh rosemary sprig
1 Tbsp black peppercorns
2 Tbsp apple cider vinegar
Apply this toner to oily or combination skin to reduce blemishes and calm inflammations.
Method
Boil 3/4 cup of water in a pan
Add in the rosemary and black pepper.
When half of the water has evaporated from the pan, turn off the heat and let it cool.
Once the liquid has cooled, pour it into an empty bottle and add the apple cider vinegar.
Dab the mixture onto your skin with a cotton pad every evening after cleansing.
This quantity should last you one or two weeks.
Kitchen
Lemon and Rosemary Shortbread
An intense fragrant aroma, rosemary is a favourite in the kitchen. Extensively used in French, Spanish and Italian cooking it adds a unique flavour to any dish from breakfast to dessert.
A dessert with herbs...? These Rosemary Lemon Shortbread are a delight with every bite! Buttery crumbly shortbread infused with sweet tangy citrus and the subtle earthy note of rosemary... delicious!
Ingredients
325g plain flour
75g caster sugar
250g butter, softened
1 large lemon, finely grated
1.5 tsp fresh rosemary, finely chopped
Method
In a large bowl, beat together the butter and sugar with a wooden spoon or electric mixer until light in colour and consistency.
Beat in the flour, a pinch of salt, rosemary and zest, then form a soft, pliable dough using your hands.
Place in the fridge for about 30 minutes to firm up.
Heat oven to 180°C/350°F/gas 5 (160°C for fan ovens).
Roll out the dough on a floured surface to about 1cm thick. Using a 5cm biscuit cutter, cut out as many biscuits as you can, re-rolling any dough trimmings.
Put the biscuits on a couple of greased baking trays and bake for about 20-25 minutes or until they just turn lightly golden.
While still hot, sprinkle the biscuits with caster sugar, then leave to cool. Store in an airtight container
Medicinal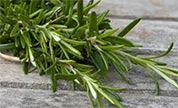 Since ancient times Rosemary has been praised for its medicinal properties, helping to alleviate muscle pain, improve memory and boost the immune system.
Boosts Memory
Rosemary is said to improve memory and help to increase intelligence and focus.
Relieves Mood and Stress
The aroma of rosemary has been linked to improving mood and reliving stress, either through consuming the plant or applying as some sort of salve.
Freshens breath
Rosemary is a natural antibacterial agent, working wonderfully as a breath freshener.
Steep rosemary leaves in a glass of warm water and then gargle or swish the water in your mouth to eliminate bacteria.
For Tired Muscles
To lift energy levels, rejuvenate muscles and boost circulation scatter a handful of rosemary leaves under running water, for an energising bath.