Sage
A strongly scented herb with a sweet yet savoury flavour, sage has one of the longest histories of use of any culinary of medicinal herb. Originating in the Mediterranean region it is now cultivated everywhere and rare in the wild.
Beauty
Sage and Grapefruit Body Scrub
Using sage in beauty treatments has been shown to improve the appearance of your skin by promoting cell renewal, additionally sage has been know to help alleviate skin conditions such as eczema and athletes foot.
How to heal rough and irritated skin....
This body scrub will leave your whole body feeling clean, soft and moisturised. Sage improves the appearance of your skin by promoting cell renewal and increasing circulation. The grapefruit in the scrub is used to reduce inflammation caused by dry or irritated skin as well as protecting the skin against UV damage.
Ingredients
2 cups fine sea salt
1 cup olive oil
4/6 leaves of fresh sage
1/2 cup sugar
1 grapefruit (white or red)
Method
In a blender, blend together olive oil and sage for 1 minute.
Pour mixture into sea salt and sugar; mix well.
Zest all rind off grapefruit and mix zest into salt mixture (You can also cut the rind off of the grapefruit and place it in a food processor until the pieces are finely chopped.)
In your shower after cleansing, turn water off or away.
Take one tablespoon of salt scrub (or more if needed) in your hands. Massage and polish all over your body in a circular motion.
The natural sea salt is great for detoxifying the body, so allow it to sit on your skin for one minute, and then rinse with warm water.
Keep remaining salt scrub in the refrigerator in between uses. It will last about 14 days
Kitchen
Broccoli and Sage Pasta
Sage's fragrant, woodsy aroma makes it the perfect herb for incorporating into recipes.
A healthy, vegetarian dinner that can be ready in a flash!
Ingredients
140g spaghetti
140g Broccoli
3 tbsp olive oil
2 shallots, sliced
1 garlic clove, finely chopped
1/4 crushed chillies
12 sage leaves shredded
Method
Boil the spaghetti for 10 min.
Add the broccoli and cook for 4 mins more.
Heat the oil in a frying pan and add the shallots and garlic.
Gently cook for 5 mins until golden. Add the chillies and sage to the pan and gently cook for 2 mins. Drain the pasta, mix with the shallot mixture in the pan
Medicinal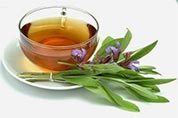 Sage leaves have a long history of being used to treat various aliments, initially it was used for the treatment of snakebites, protecting against evil,and other uses that are no longer fashionable or relied on.

Boosts Cognition
Research has shown that even small amounts of sage, whether inhaled or consumed, can increase recall abilities and memory retention in people. The brain activity also demonstrates increased concentration and focus on a chosen topic,which means adding a bit of it to your diet may be a subtle, but effective brain booster.

Treats Inflammation
Chewing on sage leaves is not always the most pleasant remedy, due to the intense flavor, but this is the most effective way to get the organic compounds acting in your system the fastest. The anti-inflammatory qualities of sage extend to health issues such as arthritis and gout, as well as general inflammation of the cardiovascular system, which can result in heart diseases and high blood pressure.

Treatment of Excessive Sweating
A recent German study has indicated that taking either a dry leaf extract or an infusion of sage leaf can reduce sweating by as much as 50%. It is a great deodoriser that dries perspiration and helps to eliminate body odour.