University of Leicester
A winning city at the heart of the UK
Find a course
View all courses
At the University of Leicester we love 'somebodies'. Somebodies take the world on and make things happen. We love nurturing new somebodies, who will explore, unearth, invent, imagine, innovate and help change the world.

Find out more about our amazing somebodies
Student Life at Leicester
Living in University accommodation is a great option for Freshers and returning students
Life in halls of residence is an experience not to be missed. We have a wide range of accommodation to suit every need.
Find out more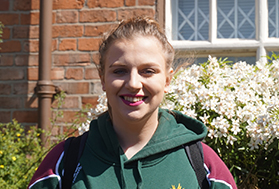 More from around the University
Chancellor's Distinguished Lectures: Lord David Putnam
Join us on Tuesday 7 November to hear Lord David Puttnam consider the developing social responsibilities of online media in the digital age.
Read more
Welcome to Leicester
Set in the heart of England, Leicester is a city rich in heritage and history, festivals and sport.
Find out more about Leicester
Be dazzled by Leicester's biggest bonfire & firework display at the city's official celebration.
More information