Primary
We deliver a range of events, activities and information sessions for years 5 and 6, both on campus and in schools. Aimed at raising aspirations, attainment and knowledge of university, all our sessions are led by University staff and/or student ambassadors.
If you have any questions about any of the activities listed below, or would like to get in touch, please email schools@le.ac.uk.
Bright Sparks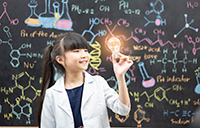 Our Year 6 Bright Sparks programme aims to get primary school students thinking about the prospect of going to university in the future. The programme encompasses a number of different activities including an 'Introduction to University' workshop, a campus visit and a graduation ceremony.
Talks and Workshops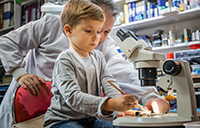 Our talks and workshops can also be tailored to your needs. Popular sessions include:
Introduction to University
Goal Setting
Student Life Talk
Science in a Box
Engineering, Medicine and Law Taster Sessions