Student profile: Ellen
Ellen is studying on the Human Geography Pathway with the ESRC Midlands Graduate School. Read more about her experiences of studying at Leicester below.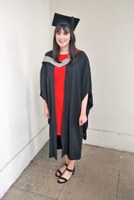 PhD topic
Exploring the Recursive Effects of Disabled People's Educational Experiences on the Lifecourse: Identity, Emotion and Life Chances
Where did you study for your undergraduate/masters?
Undergraduate- BA Geography, University of Leicester
Why have you chosen Leicester for your PhD?
As I did my undergraduate degree within the School of Geography, Geology and Environment at University of Leicester, I was keen to stay for my PhD due to the supportive staff and the research interests/agenda within the department. The University of Leicester has a great reputation for its high-quality and innovative research, as well as its thriving postgraduate community, so it was an obvious choice!
Why have you chosen the Midlands Graduate School?
The main thing that attracted me to the MGS was the wide variety of opportunities that they provide to doctoral students. A primary factor for me was the 1+3 studentship that they offer as it allowed me to go straight from my undergraduate degree, which I graduated from in 2017, to doctoral study. The Masters in Social Science Research in the +1 year provides the relevant extensive training to equip me to do a social sciences PhD. Whilst the MGS is a relatively new DTP, I was drawn by the reputation of the ESRC and its network of successful DTP/DTC's. The MGS provides a fantastic opportunity for cross-institutional supervision, as well as utilising the expertise from across the 6 institutions by attending conferences and advanced training workshops. It also encourages networking with PhD students from other institutions and disciplines. On top of the Research Council UK stipend, the MGS offers a number of other funding opportunities such as overseas institutional visits, conferences and advanced training.
When did you decide you wanted to do a PhD?
I started to look into PhD opportunities during the first term of my final year of my undergraduate degree. Throughout my degree I had been thinking about pursuing further study after graduation, then came across the MGS DTP. At the time, I was writing my undergraduate dissertation exploring support networks experienced by disabled people and found the differing experiences of education and its lasting impacts reported by disabled participants during interviews I conducted really interesting. I was inspired to pursue further research into this, being a topic I am extremely passionate about, and felt that it fitted the research agenda of the ESRC well.
Why did you decide to do a PhD?
I thoroughly enjoyed my undergraduate degree, especially the aspects of independent research through fieldtrip modules and my dissertation, and was keen to pursue further research. An interesting research topic emerged through my undergraduate dissertation research. Whilst my undergraduate research primarily focused on the support networks experienced by disabled people, discussion of educational experiences often came up during participant interviews. I was unable to analyse this in the depth and breadth that I would have liked to during this project, and was inspired to explore this area further. When I heard about the studentships available through the MGS, I was eager to apply with this research idea and was lucky enough to be given the opportunity to carry out this research on a topic I am extremely passionate about.
How did you go about looking for a PhD place?
I heard about the MGS studentships from an email that was sent out within the department during the final year of my undergraduate degree. I then did further research into the MGS and other PhD funding opportunities using www.jobs.ac.uk, but I was certain that the MGS was for me based on my research topic and my previous experience at University of Leicester. I then approached potential supervisors and worked on my application, with their guidance, over many weeks and then applied to the university through their separate application process.
How did you find out about Leicester/MGS?
I did my undergraduate degree at University of Leicester and I was keen to stay. I found out about the MGS through an email circulated within my department outlining PhD opportunities. I also attended an information talk about the MGS at the postgraduate open day at University of Leicester.
What do you think will be most enjoyable about your PhD?
The most enjoyable part is getting to research an area that I am extremely passionate about. My previous research experiences and part-time employment has developed my interest in working with disabled people and increasing inclusion in society, as well as education being a topic of personal interest too. I am particularly looking forwards to the fieldwork that I will get to conduct over the next few years, as hearing about people's experiences first hand is extremely rewarding. I am also looking forwards to getting involved in teaching undergraduates alongside my PhD research, as the School encourages PhD students to engage in a number of teaching opportunities.
What do you think will be most challenging about your PhD?
Tough question! Doing a PhD brings a number of challenges, but I think the hardest part will be remaining resilient even when things don't quite go to plan.
Do you have any plans for after your PhD?
I would love to stay within academia and become a lecturer, and to help encourage the next generation of students. I would also like to continue research into disability, helping to break down some of the barriers faced by disabled people in society.