Student profile: Tia
Tia is studying on the Human Geography Pathway with the ESRC Midlands Graduate School. Read more about her experiences of studying at Leicester below.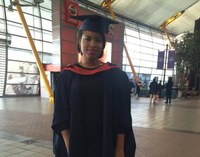 PhD topic
Regeneration or Gentrification? An Intersectional Analysis of Institutional discrimination in the case of Tottenham, following the 2011 riots
Where did you study for your undergraduate/masters?
I studied at the University of Westminster and achieved a 1st class (Hons) in Multimedia Computing and I did my Masters at the University of East London, gaining a Distinction in NGO and Development Management
Why have you chosen Leicester for your PhD?
I chose the University of Leicester for two reasons. Firstly, Leicester is one of the UK's top research universities, with a successful research culture and expert staff in the Human Geography department including my supervisor, Professor Loretta Lees, who is a world leader in gentrification research. Secondly, after visiting the university campus for an interview, I was sure that Leicester was the right choice for me based on its wonderfully diverse community. There is so much to be had from being in a lecture and interacting with people from all over the world.
Why have you chosen the Midlands Graduate School?
The Midlands Graduate School offers such a great range of opportunities for anyone looking to complete research to an excellent standard. For me, the appeal is that it joins together six great universities in order to provide a wide variety of training, collaboration and networking opportunities for PhD students, all of which I am looking forward to participating in.
When did you decide you wanted to do a PhD?
I decided to do a PhD over 10 years ago when I first started my undergraduate degree, so this is something that I have been looking forward to for a long time. During the 10 years between first deciding that I wanted to do a PhD and finally going for it, I finished my undergraduate degree, went on to work in national charities and then spent some time at home with my two daughters who are currently aged three and five. It has been a dream come true finally getting to do something that I had initially decided on so long ago.
Why did you decide to do a PhD?
When I undertook my undergraduate degree, I finally felt like I was in my element. I enjoyed researching, writing, organising my time and planning and ultimately realised that I wanted to be a researcher. For me, doing a PhD is the start of an exciting research career.
How did you go about looking for a PhD place?
I primarily felt led to look for a supervisor who is an expert in my field and this guided where I was looking for a PhD place. I had spent several months working on my proposal before I plucked up the courage to contact Professor Lees and ask if she was interested in supervising me. I had explored some of her work while I was writing my Masters dissertation and I knew at that point that I wanted to secure a place at the university that she is based. For me, choosing a good supervisor was the most important aspect, but upon reflection, the university itself also has to be a good fit. So in this respect, I am very lucky that she is based at Leicester, which is a great place to study, socialise and develop one's self.
How did you find out about Leicester/MGS?
I decided to choose my supervisor due to her immense knowledge on my topic, and so I found out about Leicester when I was searching for how to contact her so that I could send her my proposal. Professor Lees then told me about the Midlands Graduate School and upon hearing about it, I couldn't help but apply and hope that I would be able to be a part of it!
What do you think will be most enjoyable about your PhD?
I am really enjoying being in an environment where everyone has their own focus, but is also able to bring some of their knowledge to my topic. There is not a day that goes by that I do not meet either a lecturer or another PhD student who can see what I am studying from another angle and contribute some really great ideas. And as the months go by, I am becoming more and more confident in understanding how my research links to other people's focuses and I am so excited to be able to discuss their work and contribute my own perspectives on what they're doing.
What do you think will be most challenging about your PhD?
I think that the most challenging aspect of completing my PhD will be narrowing down my focus. I started the academic year knowing exactly what I wanted to concentrate on, however between the Midlands Graduate School modules that I have been taking and getting to understand the focuses of other students and staff, my understandings of the potential avenues of investigation that could be taken have really broadened. Despite this challenge, I am really enjoying exploring all potential possibilities and I hope to be able to narrow my focus as I get further into the PhD.
Do you have any plans for after your PhD?
After I finish my PhD, I intend on doing a postdoctoral fellowship in order to further my development as a researcher. Specifically, I hope to stay within the Midlands Graduate School for the fellowship and either continue on at the University of Leicester, or at one of the other universities within the Midlands Graduate School Doctoral Training Partnership.