Travel to campus and parking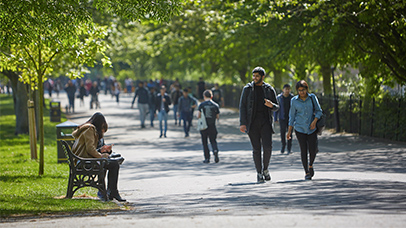 In The City accommodation you're near to campus and everything you need is close by.
Walk
Campus is within easy walking distance of all The City accommodation. Walking times will vary depending on where you are staying and which bit of campus you're heading to, but nowhere is more than a few minutes away.
Bus
Although you won't need to get the bus to campus, there are bus routes all over the city and county - great for exploring. Annual and term-time season tickets are available.
Bike
Leicester is a cycle-friendly city, so it's easy to get around on two wheels. There's bike racks available in The City accommodation as well as an underground bike store on campus.
If you don't have your own bike, you can hire one from a new city-wide 'Boris-bike'-style scheme which is scheduled to launch in autumn 2019.
Car
There is limited parking available in The City accommodation, if you bring your car with you'll need to apply for a permit and pay a fee of £24. In The City accommodation everything you need is in walking distance and Leicester has good public transport. It's worth bearing in mind that there is no student parking on campus.