Room types
Across The City accommodation we have five basic types of room. Every room has a bed, a wardrobe, a desk and chair, a window and wifi.
Single Bedroom
approx. 20 available
This is a regular room with the standard features listed above. You share a bathroom and kitchen with your neighbours.
Single Bedroom with Washbasin
approx. 650 available
This is the same as a Single Bedroom except... well, the clue's in the name - it has a washbasin.
Single Ensuite
approx. 1,000 available
This type of room has its own private bathroom with a toilet, basin and shower. So a bit more privacy - but it's your responsibility to keep it clean. You share a kitchen with your neighbours.
Single Studio Flat
approx. 100 available
This is fully self-contained. You have an ensuite bathroom, as above, and kitchen facilities in your room.
One-bedroom Flat
This is fully self-contained with a bit more space. You have a bedroom, a bathroom and a separate living room/kitchen. You're living the dream!
Not all properties have all room types, of course. And while, in general, prices increase as you go down that list, the varied nature of our properties means that the price for any room type varies between buildings. Please see the relevant page for each property to find out what rooms are available there and how much they cost.
Shared kitchens and bathrooms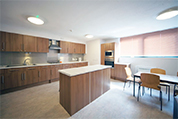 How many people share a kitchen or bathroom depends on the overall lay-out of the property. Kitchens are shared between four or more students, bathrooms between three or more.
Large rooms
You'll see some rooms listed as 'Single Ensuite (large)' and these are naturally more expensive than regular rooms. Please note that this indicates the room is different in size to other ensuite rooms in that particular property group. 'Large' does not indicate a specific size.
Adapted rooms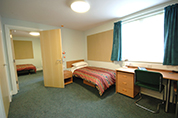 Adapted rooms (Single with Washbasin and Single Ensuite) are available in Nixon Court Blocks A-E. These have optional seating, grab rails and flat entry. The ensuites also have an adapted bathroom with a shower.
If you think you will need an adapted room - or have any other specific requirements - please contact us at accommodation@le.ac.uk to discuss how we can best meet your needs.
You may be offered an adapted room to best match the room types you have applied for, even if you do not require the facilities.