Library
Library
Our award-winning £32 million David Wilson Library is based on campus. It is a stunning, light, airy, five-storey building providing state-of-the-art facilities for all our students. We invest over £6 million a year in our library so that you can be sure you have access to the very latest resources.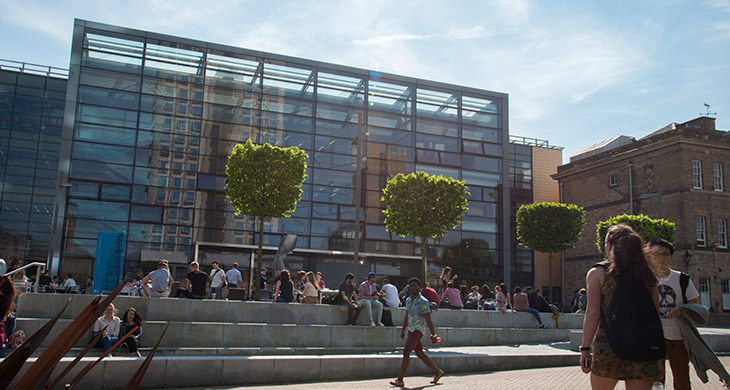 The David Wilson Library is well-equipped to meet your needs, with more than a million printed volumes and a digital library comprising thousands of electronic journals and 350,000 e-books.
Student life isn't 9-5, which is why the library is open 24 hours Sunday to Thursday; it closes at midnight on Friday and Saturday. During exam periods, it is open 24/7 so if you want to revise at 3 o'clock in the morning, we're here for you.
Our library has over 1,500 study spaces and 14 group study rooms available, so whether you want to study on your own in the silent zone or discuss your work with a group of course mates, there's a part of the library for you. We have over 350 PCs and 40 netbooks available for loan in case you want to study on the go. If you're using your personal laptop, all study desks in the library have a power socket. Wireless internet access is provided throughout the building.
And if you want to relax or meet up with friends, our Library Café is conveniently located on the ground floor serving homemade cakes and soups, paninis, sandwiches and a selection of specialist coffees, hot drinks and fruit juices. The Library Café is also there to provide sustenance for those late night sessions, staying open until 10pm during term time and until midnight in the run up to exams.
David Wilson Library
+44 (0)116 252 2043
library@le.ac.uk
www.le.ac.uk/library