International students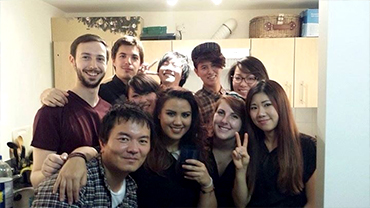 We welcome students from all over the world, including the EU, China, and the US (among others). This provides an excellent opportunity for international students to mix with both home students and other international students from a range of different nationalities, adding to all the benefits that a first-rate university education from the UK has to offer.
There are scholarships available for undergraduate international students.
Our modules have an international and interdisciplinary focus: (e.g. modules on globalisation, international development, global risk society, research methods). You are offered a high level of choice and flexibility throughout your studies, enabling you to tailor your course to your emerging interests and particular career requirements.
You will have a personal tutor who will provide you with support in academic and other areas throughout your degree, and the International Office will provide you with additional pastoral support.
All our exchange schemes are open to international students. International students can go on study abroad or Erasmus exchanges and spend a semester abroad (e.g. in the USA, Sweden or Poland) at no extra cost. As an international student you will be eligible for the student mobility grant of the European Union.
You will be able to improve your English and receive tailored help in academic writing, reading and vocabulary building for academic purposes, and writing consultation by attending the in-sessional English language courses of the ELTU.
Hear from our international students
Sociology at Leicester has equipped me with a better understanding of Britain, culturally, socially, economically and politically. I am now in a strong position to apply for jobs both in the West and back in my country (Japan). Leicester is very multicultural place - it allowed me to experience the 'world in a city'. I am really glad that I chose to study Sociology at Leicester.
Studying about how the social world works and how it relates to us from a personal perspective has broadened my mind. It has been an amazing experience. The modules are varied and offer significant depth and insight. I am confident that the many transferable skills that I am acquiring here will lead me to great opportunities.
As an international student I not only learnt about various valuable social research methods and ways of understanding society, but also gained a deep and sophisticated insight into Britain in general, and the West in particular. This is going to be invaluable for my career in the future.
It is great that almost all students in my sociology classes are British. I not only made friends with them but through the class discussions and activities with them I improved my understanding of Britain, British values and society. This isn't something many other degrees can offer.
This subject has not only equipped me with a better understanding of the western countries, but also encouraged me to think how to apply my understanding to my home city (Hong Kong). I am glad to study Sociology at Leicester. I believe what I have obtained here will be beneficial for my future career.