Dr Richard Buckley OBE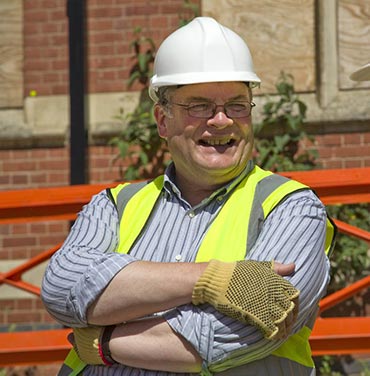 Lead archaeologist and project manager, Greyfriars Project and Honorary Research Fellow, School of Archaeology and Ancient History
After graduating from the University of Durham in 1979, Richard joined the Leicestershire Archaeological Unit (LAU), starting a career which has directed then managed every major urban excavation undertaken in Leicester since the late 1980s. His career has encompassed all the large-scale excavations that have preceded the City's urban regeneration over the last 40 years, including the Shires and Highcross shopping centres as well as the Stibbe and Waterside redevelopments, alongside landmark research excavations at Leicester Castle, Leicester Abbey and, of course, Grey Friars, the last resting place (but one) of Richard III.
In 1995, following the closure of LAU, Richard, with Dr Patrick Clay, formed University of Leicester Archaeological Services (ULAS) where, as co-director, he continued to manage archaeological projects across the Midlands, specialising in urban sites and historic buildings, until his retirement in 2020.
Richard's contribution to archaeology has been immense. Throughout his career, he has continuously raised the public profile of archaeology in Leicester and transformed our understanding of the city's history. No less important has been his dedication, alongside Patrick Clay who retired in 2017, to building ULAS over the last 25 years and ensuring the livelihoods of the archaeologists it employs, whilst developing the careers and experience of the team who will take the reins from now on. This has led to the University of Leicester being awarded the Queens Anniversary Prize in 2013 for the impact of its long record of exceptional research, commercial archaeology and public engagement in history and heritage, as highlighted by the work of the team that discovered the remains of King Richard III beneath a car park.
Richard was awarded an OBE in the New Year's honours for 2014, for services to archaeology, and in recognition of Richard's huge contribution to Leicester's Archaeology, the University awarded him his doctorate later that year. Following his retirement, he remains an Honorary Research Fellow with the University's School of Archaeology and Ancient History.