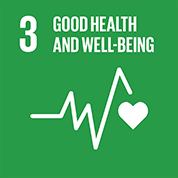 Ground-breaking research on the impact of sitting on our health from the University of Leicester has shaped clinical guidelines across the globe, has been adopted by wearable technology leaders Fitbit, and has led to the creation of the UK's first evidence-based free resource kit to encourage desk-based workers to sit less and move more often throughout the day.
We all know that it's important to remain active in order to stay healthy, but is the act of sitting bad for our health? After all, our lives revolve around sitting: we sit down to travel to work, we sit when we are at work – some of us all day - and when we get home in the evening, we sit down for dinner and then move to the couch.
There's no doubt that sitting is ingrained in our culture, but it wasn't until fairly recently that researchers across the globe started to investigate the impact sitting has on our health. In 2019, it was suggested that spending a large proportion of the day sitting down was estimated to cost the NHS around £700 million per year.
Spearheading global research into sitting is the University of Leicester's Sedentary Behaviour Research (LSBR) team, led by Associate Professor Dr Charlotte Edwardson and Professor Thomas Yates. They have spent the last decade conducting a programme of research to better understand the role of sitting time on morbidity and mortality, and to examine the health effects of replacing some of the time we spent sitting with simple light intensity physical activity, such as standing, arm exercises and moving around more.
"When we measure how much time people spend sitting each day with small body-worn accelerometers, we find on average people sit for around 9-10 hours per day. Our research has shown that people who spend a large proportion of their day sitting are at a greater risk of developing chronic diseases such as cardiovascular disease and type 2 diabetes and dying early compared to those who don't," Dr Edwardson explains.
"Initially it was thought that this was independent of the amount of exercise people did, which was worrying. More recently we've come to understand that doing moderate-to-vigorous physical activity may reduce the risk associated with high sitting time, but it may require anywhere between 30-75 minutes of moderate-to-vigorous activity every day."
Whilst this is good news and we should encourage people to do more moderate-to-vigorous physical activity, for many of us doing this amount of exercise within our daily routines is not possible, so Dr Edwardson and her team began looking at alternatives to alleviate some of the risks associated with sitting.
Through a series of acute experimental studies, LSBR was able to confirm that reducing sitting time by incorporating short (five minutes) but frequent (every thirty minutes) bouts of light activity, such as standing, walking or arm exercises, considerably improved markers of cardiometabolic health such as glucose, insulin and blood pressure. Their research also identified key groups that would most benefit from regularly breaking up their sitting. For example, people with a high BMI, females and South Asians have a worse cardiometabolic response to prolonged sitting but then had a greater beneficial cardiometabolic response to the short, frequent light activity breaks in prolonged sitting.
Ground-breaking research on the health impact of sitting has shaped clinical guidelines across the globe
Building on this evidence, LSBR collaborated with researchers at Loughborough University to develop a sitting reduction intervention, SMART Work (Stand More AT Work). This intervention was developed with input from office workers and its effectiveness was tested with a randomised controlled trial, the gold standard method for testing if something works or not. The 12-month long study involving 146 participants aimed to reduce sitting time by 60 minutes per day and targeted one of the most sedentary populations – office workers.
"We decided to target a population that spends most of their time sitting and give them an environmental change, in this case, height-adjustable desks," Dr Edwardson says.
"We provided the intervention group with a brief seminar on the consequences of sitting too much and the benefits of reducing and regularly breaking up sitting time, goal setting and action planning, ways to monitor their own sitting time, motivational posters, coaching session and a height-adjustable desk, while the control group continued working as they normally do," she adds.
The trial was a tremendous success and the study showed that the group that received the SMART Work intervention sat 80 minutes less per day compared to the control group by the end of the 12 months. This sitting time was mainly replaced by accumulating more standing throughout the day.
The team succeeded in reducing sitting time and also measured other aspects of working life, such as work engagement, job performance, occupational fatigue, muscular-skeletal issues, sickness absence and quality of life. Improvements were seen across all categories: people were more engaged at work, they thought their job performance had improved, issues with neck and back pain reduced, fatigue levels went down and their quality of life went up.
Not only were the team able to demonstrate the health benefits from incorporating standing a little bit more throughout the day, they did a cost-benefit analysis of SMART Work that showed a potential return on investment of £3 on every £1 spent as a result of increased productivity, resulting in a net-saving of £1,770.32 per employee.
The creation of the free online SMART Work Programme
Dr Edwardson and the LSBR began working with key stakeholders to turn the SMART Work programme into a free online resource kit which is easily accessible to organisations and individuals. The SMART programme now has its own website and allows anyone to sign up to access the resource kit, whether they are an individual, a workplace champion or an organisation itself. SMART Work is a great resource to use alongside height-adjustable desks or office environment change or as a stand-alone toolkit to encourage less sitting. Learn more about the programme.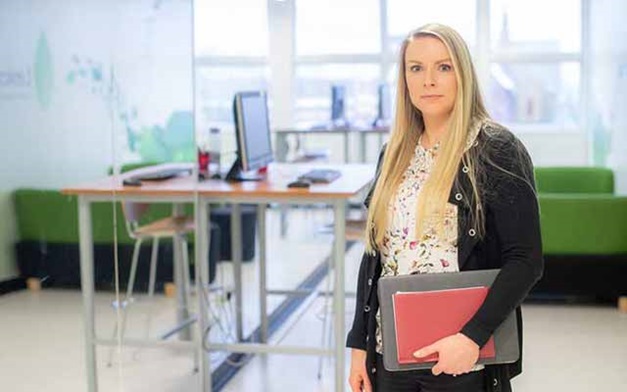 The idea behind the SMART Work Programme is to provide a free, easy to use resource kit that encourages individuals to sit less and move more often throughout the day, whether working in an office or at home.
"In the programme there are resources aimed at managers such as a business case to sell the benefits of the programme, resources aimed at workplace champions to be able to co-ordinate a full roll-out of the programme within their team or organisation, and resources for individual staff.
"In the individual staff resource kit we have lots of tools such as an interactive online education session on the consequences of sitting too much, motivational posters, examples of free phone apps and computer apps that track sitting and prompt regular breaks in sitting," she explains.
Dr Edwardson hopes that as more evidence is published on the benefits of reducing sitting time and the effectiveness of programmes like SMART Work then Occupational Health and Safety, can be changed.
"Currently, workplace policies involving things like the provision of height-adjustable desks to staff are based on muscular skeletal complaints or promoting regular screen breaks to prevent eye strain. But we want to encourage reductions and regular breaks in sitting during work for much wider health, wellbeing and work-related benefits as seen in the evaluation of SMART Work," she says.
Shaping policy and changing clinical guidelines
As a result of their research, LSBR was invited to contribute to the first ever expert statement on sedentary behaviour levels in the workplace. This statement recommended that workers should aim to spend 50% of their working day upright and was aimed primarily at staff working in office environments.
The expert statement was the catalyst for widespread changes to clinical practice and working guidelines; in 2019, the UK Chief Medical Officer published the new 'UK Physical Activity Guidelines' with Professor Yates providing expertise as a member of the sedentary behaviour expert working group.
LSBR research has also gone on to underpin international guidelines covering sedentary behaviour, including the Dutch Physical Activity Guidelines, the Physical Activity/Exercise and Diabetes Position Statement of the American Diabetes Association, the 2018 USA Physical Activity Guidelines, the World Health Organisation's guidelines on physical activity and sedentary behaviour and the American Cancer society guideline for diet and physical activity for cancer prevention. It even spurred Fitbit, the world leader in wearable physical activity trackers, to introduce a vibration reminder to the user if they haven't taken enough steps each hour.
Next steps
While the LSBR team are focused on the widespread rollout of the SMART Work programme for office workers, they are also looking at implementing it in other populations where sitting is especially prevalent, and with Working from Home looking to become the new normal for most of the world, there is a lot of work to be done to promote the benefits of sitting less and moving more often.
In fact, LSBR have already done research on sitting during lockdown, with preliminary results showing that the time people spend sitting has increased during the COVID-19 pandemic, they are spending less time standing during work hours, are not breaking up their sitting as much and have experienced an increase in musculoskeletal issues across all areas of the body - back, neck, wrist, elbow, hips etc. - with issues in the lower back having the largest increase.
"While we have made significant inroads in changing attitudes when it comes to workplace sitting, we still have a long way to go to get that message across when it comes to sitting at home. This is especially important as working from home becomes routine, and people begin to move much less than they were before," Dr Edwardson says.
If you spend too much time sitting and want to do something about it? Or are you an employer who wants to encourage their workforce to sit less to improve their health and wellbeing? You can find out more and sign up to SMART Work.
This programme has been shown to:
Reduce musculoskeletal issues in the back and neck areas
Improve job performance
Reduce sickness presenteeism
Increase work engagement
Improve quality of life
The SMART Work resource kit is the perfect supplement to environmental changes, such as height-adjustable desks, or as a stand-alone toolkit to encourage less sitting. Why not give it a go?