Yu-Chun Kao: Digital Media at the National Palace Museum, Taiwan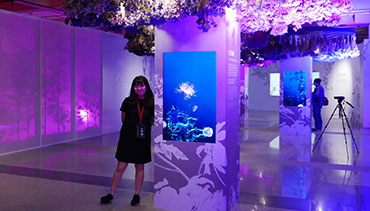 I am currently working at the National Palace Museum in Taiwan as an assistant in the Department of Education, Exhibition and Information Services. I've been working in the Museum since I graduated from the Museum Studies course at the University of Leicester in 2016.
The main work of my team is in extending the Museum's engagement outside the museum through digital technologies through the on-line collections, rural education, digital installation development, and touring exhibition. In the past two years I have been devoted to four touring exhibitions and a new media art installation. A recent exhibition at the museum re-interpreted precious artefacts from the collection using multi-media installations and virtual reality technology. This display intended to open up dialogue between the public and museum artworks. This exhibition won the Sliver MUSE Award from the AAM Media and Technology Network and Gold Award from the WorldFest Houston.
Recently, we have worked with the City University in Hong Kong for an exhibition named 'ANiMAL- Art, Science, Nature, Society;, with ancient artifact replica, creative media and contemporary art. My role is primarily a project manager. While I have an administrative role most of time, I am encouraged to be creative and imaginative in site design and learning activity. As I act as a bridge between the researcher, IT engineer and artist, and work with people from different backgrounds and different cultures this brings me a new perspective of museum work and stimulates me to re-examine how exhibitions relate to diversity.
For another project, my team developed an immersive interactive installation for the exhibition 'Floral Art for Pleasure – Appreciation of Flower Vessels and Lifestyle' which focused on floral containers and antiquities. With the help of the researcher, we interpreted the code of the vessels' shape, colour and patterns into digital art. The interactive installation acted as a 'fortune teller' - visitors drew on the touch screen, and the moon revealed a lucky word indicating which museum antiquity you are. The installation attracted lots of people. We noticed that children were very interested in the original artefact following the revelation.
Something I've learned is it is always important to be an all-round person in a museum! I majored in History with a minor in Education for my Bachelor. At that time I never thought that one day my work would link to digital technologies. Coincidentally, I chose 'Digital Media and Curatorship' as my option module in Museum Studies. I can still remember how worried I felt during the first term of the module, because I knew nothing of digital technologies. But things turned better in the end, and I deeply remember 'human-centered' and 'Design-Thinking' in my mind. Now I am keep applying these two concepts widely, not only on the digital design in the museum, but also on the artefact display within the exhibition.
One of my friends from Museum Studies, had told me "Don't limit yourself!" and I am delighted that I rushed out my comfort zone and joined the University of Leicester.
Kao, Yu-Chun
Research Assistant, National Palace Museum, Taiwan
MA Museum Studies 2015-16