Museological Review
Call for papers
The current Call for Peer-Reviewers is for Issue 24; deadline 6th January 2020.
---
Welcome to the Museological Review - the online journal edited by the PhD community of Museum Studies since 1994.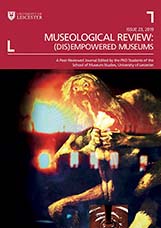 Issues
*Issues 3-6 (1996-2000) are not yet available. We are hoping to rectify this in the future.