PhD Residential Training Course
PhD Residential Training Course
Monday 1 July 2019 (9.00am) to Wednesday 3 July 2019 (5.00pm)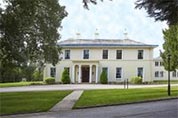 This year's PhD training course has taken place over three days at Eastwood Hall in Nottinghamshire. The training and assessment was delivered by industry focused facilitators, local venture capitalists alongside members of the Leicester Precision Medicine Institute and the Doctoral College.
This three-day residential programme was designed to enable PGRs to develop a wide range of career skills that involves both taught elements and experiential learning.
Topics covered included:
Working effectively in teams
What is my team role and preferred work style?
Developing a business – what is your value proposition?
Case studies of successful and unsuccessful businesses
Building a business plan – understanding the financials
Intellectual Property Rights
Understanding your market
Making an effective pitch – including an elevator pitch
Reflection on on-going personal development
The focus of the programme involved teams of participants to formulate a business built around a precision medicine biomedical product or service. The virtual business was then presented to a team of business people in a 'Dragon's Den' format, where they receive feedback on the viability of their concept.
Participants worked in small teams to develop an innovative product or service to bring to market in the contemporary economy. The product was only to be conceptualised. Whilst students could produce a drawing, a prototype was not to be produced.
Each team prepared a business plan for the manufacture, marketing, distribution and sale of their product.
On Day 3, the final day of the project, each team made a pitch to a small panel of business people who rated the products and business plans in terms of their viability in the contemporary economy.
By the end of the programme the students had covered the following learning outcomes.
Worked with a cohort of colleagues towards the development of a commercially viable product or service
Engaged in the management of the project from inception to conclusion
Developed an enhanced understanding of their preferred work style
Gained an understanding of a number of their strengths and areas for development
Addressed a number of their development areas
Worked through a number of learning examples, in accordance with the Kolb model
Explored their thinking style as it impacts on their work
Reflected on their development experience, through the use of a reflective diary, personal reflection and co-coaching with colleagues.